8 Best Neil Diamond Songs
20 May 2016, 11:09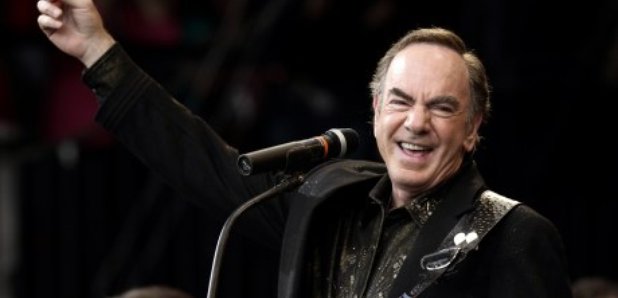 The veteran singer and songwriter has a career spanning 54 years with 100 million albums sold, and we've picked out 8 of his best hits.
Diamond is the featured artist on the Great American Songbook on Smooth this Sunday, which you can listen to with Andrew Castle from 6pm to 10pm.
To mark this we've picked out some of Neil Diamond's best loved songs.
Sweet Caroline (1969)
What other song could we start this list off with? Diamond wrote the classic, soaring ballad for his wife Marsha, but her name didn't have enough syllables for him so he used the name Caroline instead.
Love On The Rocks (1980)
Almost 30 years after he started and Diamond was still scoring hits. This song from the film 'The Jazz Singer' climbed to number 2 in the US charts.
I Am I Said (1971)
The classic, perky melody gets you every time, and it compliments the very personal lyrics beautifully, which Neil says leave him struggling to gather himself after singing live. One to put on and sing along to at the top of your voice.
Hello Again (1980)
A beautiful ballad with those gorgeous soaring strings, it's another song that came from the hit soundtrack for the 'Jazz Singer'.
Cracklin' Rosie (1970)
This rockin' tune helped Diamond to break through in the UK where it charted at number 3, his highest position to that point. Oh, and "who's Cracklin' Rosie?", you ask - it's actually a type of wine.
I'm A Believer (1966)
Perhaps the most successful song Neil Diamond ever wrote - although it was the Monkees' version that made it popular. Written by Diamond in 1966, this perfect slice of energetic pop has sold more than 10-million copies.
Red Red Wine (1968)
Like 'I'm A Believer', 'Red Red Wine' was made successful by another artist, in this case, UB40. But we think there's a soulfulness to Neil's original version that's just beautiful.
Girl, You'll Be A Woman Soon (1967)
This intense, yearning song had some success when it first came out in 1967, but when a cover of it was featured in Quentin Tarantino's 'Pulp Fiction' in 1994, it enjoyed a much deserved second wind.
Great American Songbook: Neil Diamond - 6pm to 10pm, Sunday, 22 May on Smooth Radio.