In an otherwise dull show, Pharrell and Nile Rodgers set the stage alight at the BRIT Awards 2014.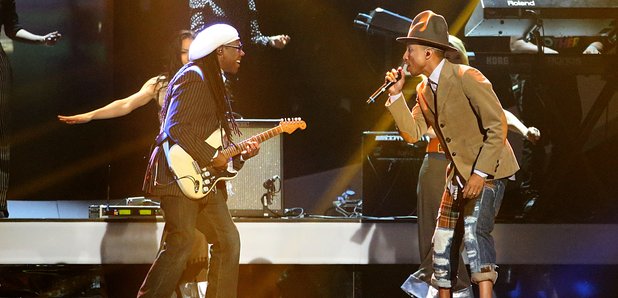 If you were watching from the comfort of your home, you probably had to mute a few of presenter James Cordon's 'jokes', rolled your eyes at the behaviour of one Arctic Monkey and were underwhelmed by Beyonce's performance.
However, there were a couple of shining lights amongst the overriding dullness – David Bowie picked up the best British male award for one. He wasn't in attendance of course, he's much too cool for that, so instead he'd asked model Kate Moss to collect his prize and read a speech on his behalf.
At 67, Bowie is the oldest recipient of a Brit Award in the ceremony's history and the award comes 18 years since his last Brits success.
We had to wait until the final act to see a true star quality performance. Pharrell (what a 12 months he has had!) and the legend that is Chic star Nile Rodgers teamed up for a medley of 'Get Lucky' 'Good Times' and 'Happy'. And it was, by far, the highlight of the show.
If you missed the show, catch-up with their performance now: