'More women will die' if domestic violence funding is changed, refuge warns
7 March 2018, 17:04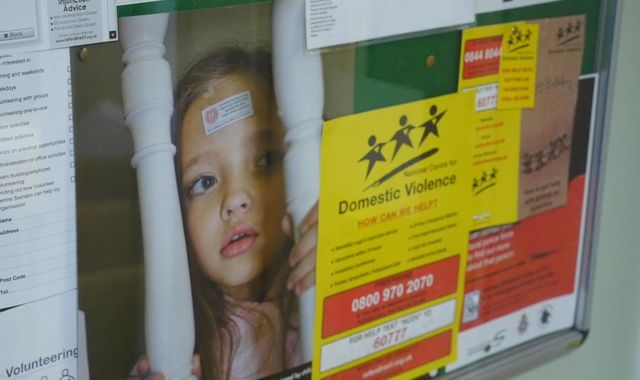 The manager of a domestic violence refuge has told Sky News that "more women will die" if funding changes for refuges go ahead.
On the eve of International Women's Day, Sky News was given special access to a housing complex which provides a safe haven for vulnerable women and their children.
Olwen Kelly, director of Swindon's Women's Aid, has been running the refuge for five years, and told us they have a constant flow of women needing their help who have faced physical and psychological abuse.
She said: "Women turn up all times of the day and the evening, in fact the majority of women and children will turn up in the middle of the night.
"When they arrive they'll only have the clothes that they're wearing, the children more often will be wearing their pyjamas and that's because they've been put into police cars because it is not safe for them to stay in their own home."
While the Government has pledged to provide more help for victims through the Domestic Violence Bill, charities including Women's Aid are deeply concerned about proposals that could impact funding for refuges.
At the moment housing benefit can be used to pay for the specialist accommodation.
But the Government are considering stopping that and devolving housing costs to local authorities, meaning funding to house abuse victims could come out of the same pot of money as that for ex-offenders, the homeless and those coming off alcohol and drugs.
Talking about her fears for her own refuge, Ms Kelly said: "Locally we are going to have to vie for funding in order to make sure that this refuge continues. What it will ultimately mean is that more women will die, more women will lose their lives.
"In England we know already that two women a week die because of domestic violence."
Currently, the refuge we visited is full. As well as supporting women aged between 23 and 70, they also have 35 children staying there after they arrived with their mothers.
"Anne", who came in with her three children, spoke to us anonymously.
Her most recent partner psychologically abused her.
She said the refuge has been a lifeline, adding: "He would look through the windows, let himself into my house, knock on the door late at night, shout nasty things about me in the street, he would stand in the doorway all dressed in black, not very nice things to deal with, my children were very scared.
"I needed the refuge, I've had some amazing support and I'll never forget what this place has done for me, I'll always be grateful."
To mark International Women's Day, Women's Aid is celebrating the unsung heroes who help save the lives of women and children who experience domestic violence every year.
Some 60% of their services cited funding cuts and uncertainties as their biggest challenge in 2016/17.
A government spokesman said: "This government is completely committed to developing a sustainable funding model for refuges and to ensuring that there is no postcode lottery when it comes to provision across the country.
"That is why we are reviewing the way in which refuges and supported housing are delivered.
"As part of our ongoing work with victims groups we will also be launching a consultation on our draft Domestic Abuse Bill to transform how we respond to domestic abuse to provide better protection and support for victims and bring more perpetrators to justice."
(c) Sky News 2018: 'More women will die' if domestic violence funding is changed, refuge warns