Colourama is Back!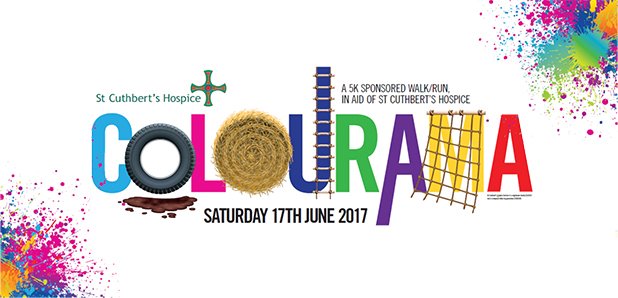 Colourama is back, with even more fun for the family on Saturday 17th June 2017
The non-competitive walk or run, in aid of St Cuthbert's Hospice, will see participants make their way around a 5k course, facing a variety of colourful challenges, including family friendly obstacles, and a rainbow of powdered paint! The paint used is a fine powder that is completely safe and non-toxic.

WHO CAN TAKE PART?
Anyone! The light cross-country route makes it suitable for all ages and abilities. There's even a pushchair friendly route available. Some obstacles may not be suitable for little hands and feet, however all obstacles will have the option to scoot around them as well as over them. Registration fee includes a brilliant white St Cuthbert's Hospice t-shirt, alongside entry to the route.
HOW WILL IT WORK?
Participants will be allocated a start time when they register. Start times are between 1pm and 4pm and will be filled on a first come, first served basis. Participants who wish to start together must register at the same time to ensure they are allocated the same time group.
HOW DO I REGISTER?
One registration form must be completed per adult taking part, 15s and under must be accompanied by an adult and their name and age filled in on the accompanying adult's registration form. Please return all completed forms to the Hospice by 2pm on Friday 9th June 2017.
PRICES
Adult Early Bird (ends 1st May) - £17
Adult Full Price (2nd May onwards) - £22
15 and under Early Bird (ends 1st May) - £12
15 and under Full Price (2nd May onwards) - £17
5's and under - free (t-shirt not included, but can be purchased on the day)



Click here to find out more information about Colourama
To find out more about the event call the Development Team on 0191 386 1170 ext. 5 or click here to find out more about Colourama.