St Oswald's The Lantern Walk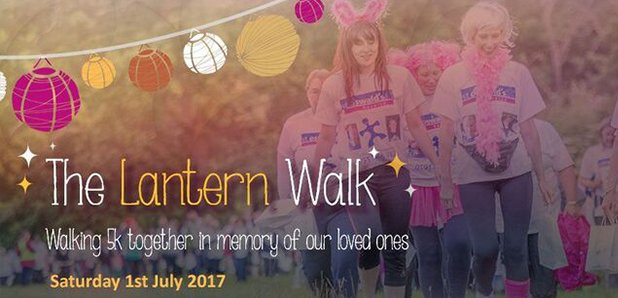 The fundraising 5k walk takes place at dusk and walkers will carry a lantern to light the way along the route as the sun sets, in celebration of the life of the person or people they are remembering. Walkers are encouraged to make a donation or raise funds for St Oswald's in memory of their loved one to help fund the care of patients both now and in the future. The event will open with music and entertainment from Breakfast Show host Steve Colman before the walk begins. Everyone is welcome, whether they have a connection to St Oswald's or not.
There are two ways in which you can take part:
Take part in the Lantern Walk
If you would like to remember someone by joining the Lantern Walk on Saturday 1st July at The Rising Sun Country Park, you can sign up now. Anyone aged 12 and over can take part, although under 16's must be accompanied by a registered adult. To secure your place, visit www.stoswaldsuk.org/lantern-walk or call 0191 246 9123
Registration for walkers is £15 for over 16's and £10 for ages 12-15. The registration fee covers the costs of the event and includes a St Oswald's t-shirt, paper lantern and a battery operated tea light. St Oswald's ask all walkers to aim to raise £100 each through fundraising, sponsorship or by making a donation in memory of your loved one. This money will directly support the charity's work with local adults, young people and children. You will receive an information pack when you register, full of handy tips and ideas to reach your target, and their fundraising team are on hand to provide fundraising materials and help you with ideas.
Dedicate a lantern in memory
If you would like to remember a loved one through the Lantern Walk campaign but do not wish to take part in the walk, you can make a donation to St Oswald's Hospice in their memory. On the evening of the walk, each lantern will glow in memory of someone special, and for a donation towards the charity's work, they will add a lantern for the person you wish to remember. You will then receive a letter after the event with a photograph of the lanterns, and you are more than welcome to come along on the night to see the display and cheer our walkers on. You can make a donation online at www.stoswaldsuk.org/lantern-walk or call 0191 246 9123
Online Memory Wall
Whether you are walking or simply want to make a kind donation, why not add a photo of your loved one to the online memory wall?
Once you have signed up to join or walk or made a donation in memory, email a photograph to enquiries@stoswaldsuk.org stating your loved ones name. Their dedication will then appear on the online Memory Wall at www.stoswaldsuk.org/lantern-walk
All funds raised through your sponsorship and donations will support St Oswald's Hospice's vital work with local adults, young people and children in our community. For every £100 raised, they can provide 5 hours of specialist nursing care to an adult or child with a life-limiting illness.
Click here to find out more information about The Lantern Walk 2017