Manchester Together with One Voice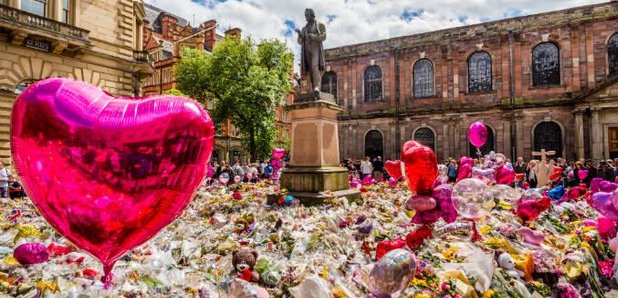 One Voice event to commemorate the anniversary of the 22 May Arena attack
Around 4,000 people representing more than 80 choirs have applied to take part in the Albert Square event on stage from 7.30pm to 9pm on Tuesday 22 May 2018, culminating in a mass singalong for the final half hour.
The event will see people come together in the same spirit of solidarity and compassion which Manchester, Greater Manchester and beyond showed in the aftermath of last year's attack – and in which music played an important part.
The choirs will be led by Dan McDwyer, the choirmaster who directed Parrs Wood High School in Didsbury whose moving tribute to the 22 people who lost their lives in the attack went viral last May.
Full details of the line-up and programme of songs will be announced next week.
Members of the public are encouraged to come along to share in the moment and add their voices to the singalong.
It will also be shown live on the big screen in the Piazza at MediaCityUK and played over the PA systems at Manchester Airport as Greater Manchester comes together.
Sir Richard Leese, Leader of Manchester City Council, said: "There was a remarkable response to last year's terrible events as people united to show their strength, solidarity and refusal to give in to hatred. Once again thousands will join together with one voice, marking an emotional anniversary in a fitting way.
"The overwhelming interest in taking part in this event shows once more the extent to which this is a place with music in its soul."
Dan McDwyer said: Music to aid healing is proven and is even more impactful when people come together in numbers. To harness the power of communities in one voice will be a special moment that I am honoured to be asked to conduct and to be a part of."
A Civic Memorial Service will be held at Manchester Cathedral earlier on Tuesday 22 May, from 2-3pm, attended by an invited congregation including the families of those who lost their lives, those injured, first responders, civic leaders and senior national figures. While space limitations mean the service to reflect on events of that terrible day and remember loved ones has to be invitation only, there will be opportunities for anyone to watch the service on a big screen in Cathedral Gardens.
For those who cannot make it to Manchester, the service will also be screened at York Minster, Liverpool Metropolitan Cathedral and Glasgow Cathedral.