Gardening Scotland Is Back!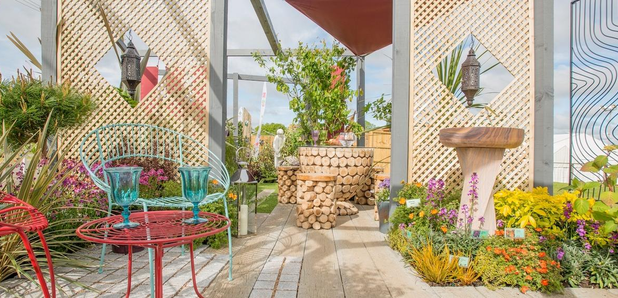 The show is back at the Royal Highland Centre from 2nd to 4th June and is sure to have you brimming over with ideas to make your garden the perfect haven this summer.
Gardening Scotland returns to the Royal Highland Centre, Ingliston this summer from Friday 2nd to Sunday 4th June bringing with it everything you need to transform your garden.
Whether you want to create a relaxing oasis full of fragrant flowers, the perfect veggie patch or a family outdoor activity area with play equipment and a barbecue of course the show will give you inspiration!

The Royal Highland Centre will be transformed into an explosion of colour and a gardeners paradise, making it the perfect day out for everyone, from the experienced or novice gardener right through to families who just love making the most of their outdoor space.
It's the biggest plant fair in Scotland, showcasing everything from beautiful plants, gardening tools, equipment and outdoor furniture through to specialist areas including a bonsai exhibition. You are sure to find all the inspiration you need to make your garden flourish and bloom this summer! And when you've bought all you can carry, you can drop it all off at their plant crèche and keep on shopping!
We know the little ones love getting out in the garden too, what better place to discover the great outdoors than just outside your own door?
So Gardening Scotland have their own Big Back Garden at the show, where the kids can enjoy play equipment, bouncy castles, outdoor games, creativity tent and lots of other hands-on activities. They can also explore the world of nature and get their hands dirty potting plants, sowing seeds, making their own grass heads and labelling and caring for plants.
NSPCC Scotland are the charity partners of the event and have loads of fun for the kids too with a flower-themed treasure hunt, face painting, games and prizes, as well great competition.
And of course, with children food is always on the agenda, so they'll love the cookery theatre on Sunday 4th June where they can cook with a professional chef.
There's loads of fun for the grown ups too, with afternoon tea in the Floral Tea Room, where from £36 per person you can enjoy a selection of delicious handcrafted sandwiches, scones, cakes and tarts and tea or coffee, (or if you fancy it, a glass of Prosecco).
Plus, for the first time ever in 2017, Gardening Scotland will also be crowning Scotland's best gardener. Nominations are open now so if you know a green fingered friend or gnome an attractive allotment owner nominate them today - find out more here.
Find them on Facebook, Twitter @GardenScotland,
& Instagram