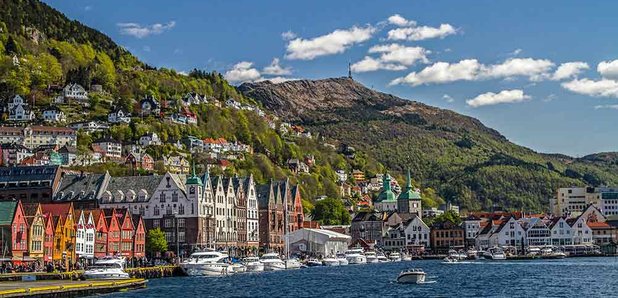 Looking for a city break that has all the charm, beauty and culture? We have the perfect place to find your new weekend escape.
Bergen is Norway's big city with a small-town atmosphere. Discover the Nordic way of living as you take in the absolutely stunning panoramic views. Full of history and traditions, it's the ideal combination of tranquil living, historic culture and vibrant city sights.
Win your weekend escape now, and discover Bergen with £500 spending money
We are sending you for a three night weekend stay for two in Bergen, Norway with Flybe's franchise partner Loganair. Plus, to make sure you enjoy some of the Norwegian delights, we are also giving you £500 spending money for your visit. Enter to win by answering the question below before 23:59 on Monday 1st May.
Find your summer serenity...
Combine the beauty of the Fjords with Nordic Hospitality.
You can fly to Bergen, Norway direct
with Flybe's franchise partner Loganair
from Glasgow and receive an inclusive 20kg baggage allowance.
Book your flights now
During your visit make sure you take in some of the city's many treasures...Take a stroll around the old streets and alleyways where you will discover the charm of the higgledy piggledy small wooden houses and steep cobbled streets.
See Bergen's hanseatic wharf, which dates back to the Middle Ages and is designated a World Heritage site by UNESCO. Walk the length of Bryggen to the old fortress of Bergenhus, drop in at one of the many museums and galleries, visit the composer Edvard Greig's home.
Bergen has plenty to keep you entertained, and with many gourmet seafood restaurants and small friendly bistros, your appetite will be equally as satisfied.
Bergen's charm is accentuated by its stunning surroundings, so if you're feeling adventurous you can travel to the top of Mount Floyen, or Ulriken, or any of the seven mountains that surround the city and you will savour Bergen and the unforgettable memory of the spectacular Norwegian Fjords. A tour to this magical kingdom of fjords is a must with wild and beautiful countryside, majestic mountains and dramatic landscapes.
Book your cheap flights now with Flybe's franchise partner Loganair. Bergen is a gem of a city and a visit here is going to be exciting and memorable!