Football Star Sits With Autistic Boy Eating Lunch Alone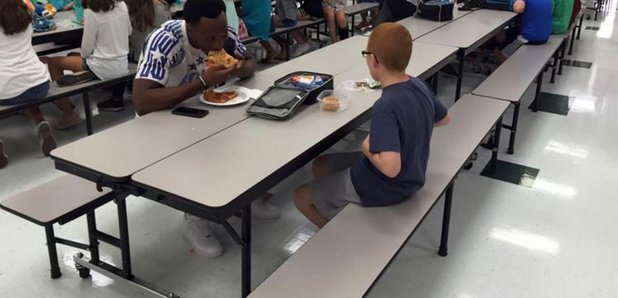 American football wide receiver Travis Rudolph saw autistic boy Bo Paske eating lunch alone, and sat with him.
Secondary school can be tough for all of us, and even more so for students with autism.
Bo Paske often finds himself eating lunch alone at Montford Middle School in Tallahassee, because none of the other students want to sit with him.
But things changed this week when American football player Travis Rudolph was visiting the school with his team the Florida State Semioles. Seeing Bo all by himself, Rudolph sat down to share his table and chat.
Bo's mum Leah wrote in a Facebook post:
"Sometimes I'm grateful for his autism. That may sound like a terrible thing to say, but in some ways I think, I hope, it shields him... He doesn't seem to notice when that he doesn't get invited to birthday parties anymore. And he doesn't seem to mind if he eats lunch alone.
"It's one of my daily questions for him. Was there a time today you felt sad? Who did you eat lunch with today?"
Well, Leah found out that her son ate lunch with one of the rising stars of the FSU when a friend sent her the image on Facebook!
Travis said: "I was a kid not too long ago and I remember what the impact was of guys that played in college and in the NFL coming back to us."
Travis and Bo, you've both won us as fans!