Twitter User John Lewis Gets Surprise Christmas Gift From The Retailer
15 November 2016, 16:50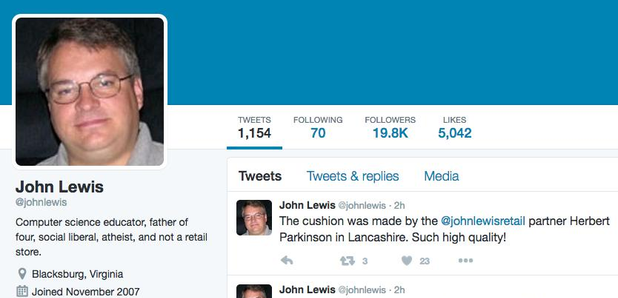 It's the least they could do for all those misdirected tweets John Lewis gets all year long...
Retail giant John Lewis has reached out to a man of the same name who constantly gets mistaken for the brand on Twitter.
American Twitter user John Lewis gets inundated all year long with tweets from people about their purchases from the store, despite his Twitter bio reading, "Computer science educator, father of four, social liberal, atheist and not a retail store."
To make up for all the confusion, John Lewis (the shop) has sent John Lewis (the man) a Christmas package.
Received a huge package from @johnlewisretail including this amazing embroidered cushion. So cool! Thank you very much! pic.twitter.com/cIMAvPol5D

— John Lewis (@johnlewis) November 15, 2016
The package included a stuffed Buster, Sid, and Olivia from the ad, as well as Christmas crackers, ornaments, and wrapping paper! pic.twitter.com/YnP3QAwFX9

— John Lewis (@johnlewis) November 15, 2016
Each Christmas as the speculation around the John Lewis ad mounts, Twitter user John gets a huge influx of Tweets, so much so that another user @pault1984 tried to start the hashtag #prayforjohn this year.
Well Christmas is officially here... I already feel sorry for @johnlewis for all of the notifications he will receive #PrayForJohn https://t.co/EY3rc46RAF

— Paul Thompson (@pault1984) November 10, 2016
It's all in good humour though, and we don't think John Lewis (man) will complain as long as John Lewis (retailer) keep sending gifts his way...