Love Coffee? Love Doughnuts? Try A Donutccino!
3 June 2016, 11:02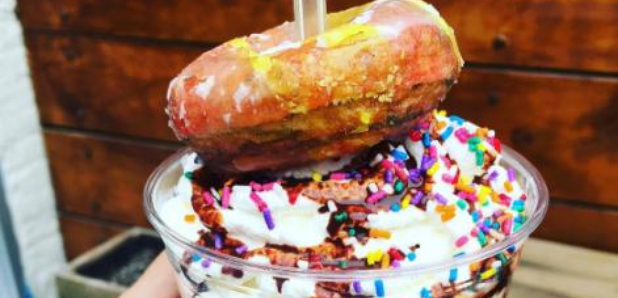 It's the new way to have breakfast donut you know?
If like us, you need a caffeine hit in the morning to get your eyes opened properly, oh and don't forget a sugar hit around 11am to keep you going until lunch, then this could be the perfect breakfast for you!
'Gossip Coffee' in New York has come up with the 'Donutccino' – a blend of iced coffee, topped with whipped cream, sprinkles, chocolate sauce and a doughnut (or two) around your straw.
Yes, you read that correctly.
The Donutccino is the brainchild of Chef Scottish Francis who was once described as the "Doughnut King" by Gordon Ramsay when he appeared on Masterchef in the U.S.
His doughnut flavours include 'Limoncello Poppyseed', 'Prosciutto Guiness' and 'Nutella Almond' and you can add as many of these babies on top of your Donutccino as you like. (Warning: They may topple...)
If you're not a coffee fan, you can get strawberry or chocolate milk as your base instead.
These bad boys cost $6.50 or £4.50 but the flights to New York are much, much more...
OH MY GOODNESS, GET US THERE NOW!!!