Owl HUGS Man Who Saved Her Life, This Will Make Your Day!
8 June 2016, 16:34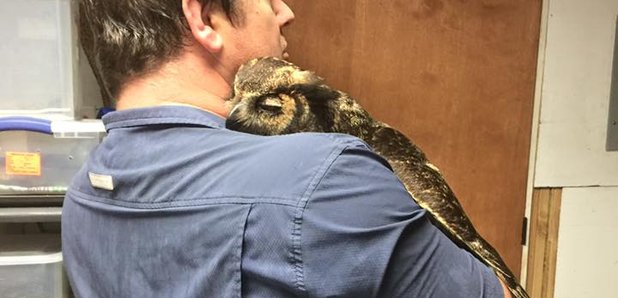 Poor GiGi was at death's door when she was rescued by 'The Owl Whisperer'. Here's how she repaid him!
Animals never cease to amaze us, and if we're being honest, sometimes we prefer them to humans...
And this story just backs up why we've always loved them!
Last month, the Wild at Heart Rescue Centre in Mississippi, rescued a great horned owl that was suffering with a massive concussion and severe head trauma, most likely from being hit by a car.
GiGi, as they named her, was covered in parasites and had a condition called aspergillosis which is like pneumonia.
Staff feared she was at death's door but thanks to president of the centre, Douglas Pojeky, aka 'The Bird Whisper', the team were able to nurse GiGi back to a stable condition.
And his help didn't go unnoticed by GiGi.
After some time at home with his family, Doug returned to the centre this week and was greeted by Gigi with a huge owl hug!
"She threw both wings around him and gave him an owl hug," Missy Dubuisson, founder of the Wild at Heart Rescue Centre wrote on Facebook. "Then I walk around to see what her face looks like and this is what I see. Pure contentment."
These pictures are so heart-warming – you literally can see the joy on GiGi's face as she nuzzles close to her rescuer!
Once Gigi is fully better, she'll be released back into the wild but we're sure she'll never forget Doug and all the team at the Wild at Heart Rescue Centre.
Excuse us while we grab a tissue... *sniff*