'You Are Vile' Chef Turns The Tables And Reviews Customer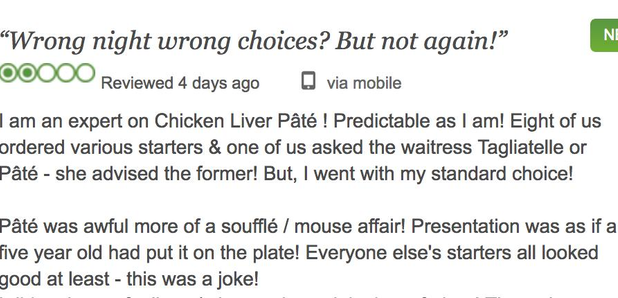 A rather exacting customer left a scathing review for a restaurant online - so the chef reviewed the customer.
Who would have thought pate could cause such a ruckus?
A reviewer on TripAdvisor pulled no punches when he reviewed his experience at 'The Burnt Truffle' in Heswall near Liverpool. A self-proclaimed "expert on Chicken Liver Paté", he said the red wine was too cold, was appalled that the white wine had a screw top, and that the crème brûlée was "not too dissimilar to a quality brand of custard from a certain supermarket!"
The worst though came in his area of expertise; the chicken liver paté.
"Eight of us ordered various starters & one of us asked the waitress Tagliatelle or Pâté - she advised the former! But, I went with my standard choice!
Pâté was awful more of a soufflé / mouse affair! Presentation was as if a five year old had put it on the plate!"
Overall a pretty negative review.
Now, owners, if they pay attention to the reviews at all, would take it on the chin and move on. Not the Burnt Truffle though. As the number one rated restaurant in the area they had a repitation to defend.
"Firstly, Emma and I never have to see you in Burnt Truffle again! You were vile!" Gazza, the chef, began.
"Secondly, that I was actually working in the kitchen at Burnt Truffle the evening you dined! I was able to support the team whilst they dealt with your onslaught!
"In fact, you Sir are the reason I was stood in a queue at a petrol station at 10.05pm that night buying eight cans of Stella whilst questioning the human race!"
Gazza then proceeds to dismantle the man's arguments, and when he finishes with that, he leaves some advice to save the reviewer some time and money in the future
"Sir, we have two other restaurants! One is Sticky Walnut in Chester and the other is Hispi in Manchester! You said you wouldn't be returning to Burnt Truffle! So just to make absolutely sure we don't see you at either of the other two, the pâté recipe is the same in all three!"
A free and frank exchange of views between customer and chef. Isn't this what online reviews are all about? Read the whole exchange here.