5 Bizarre Facts About The Beatles Final Rooftop Concert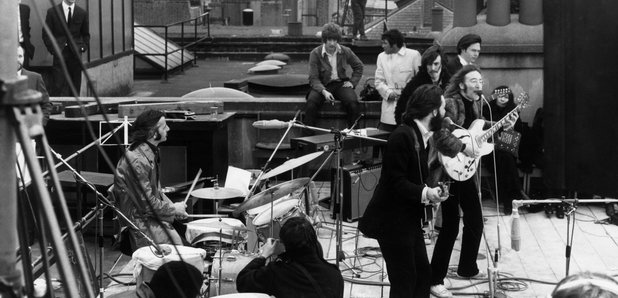 Pantyhose, cue-cards, ladies clothes... and more strange goings-on at The Beatles last ever live performance...
The Beatles gave their last live performance on the roof of their Savile Row headquarters in London on January 30th, 1969.
It was planned as the climax to the documentary 'Get Back', which later became 'Let It Be'.
It turned out it was their last ever live performance, and here are some strange facts about the gig...
1. They wore ladies coats.

It was so cold on the roof of Apple Corps that according to Rolling Stone, Lennon borrowed Yoko Ono's fur coat and Ringo Starr had to wear his wife Maureen's red raincoat.
2. Their microphones were wrapped in women's pantyhose.
The cold winds were also too much for the delicate studio microphones recording the drums and guitars, that according to Rolling Stone, tape engineer Alan Parsons was sent that morning to buy women's pantyhose.
"I walked into this department store and said, 'I need three pairs of pantyhose,'" Parsons told Guitar Player. "They thought I was either a bank robber or a cross-dresser."
3. They were caught by the police
Their impromptu rooftop gig delighted many city workers on their lunch break, so much so, that there was a traffic jam (predictably). Police at the West End Central Police Station were called and a hidden camera in the reception area of the Apple building recalled their arrival.
In this video, Ken Wharfe, a policeman on duty that day recalls the event:
4. John Lennon needed cue cards to remember the lyrics.
Despite having written many of the song lyrics, John Lennon still had trouble remembering them. According to Rolling Stone, the Beatles asked an Apple office assistant to kneel beside the camera and hold up the song words for John.
5. It was their first live performance in over two years.
It's famously called their last concert but the rooftop gig was also their first live show in more than two years. They had officially finished touring in August 1966 with their last show in San Francisco.
Watch The Beatles perform 'Don't Let Me Down' at the historical rooftop concert: