Bryan Adams apologises for controversial virus social media rant
13 May 2020, 09:25 | Updated: 13 May 2020, 10:37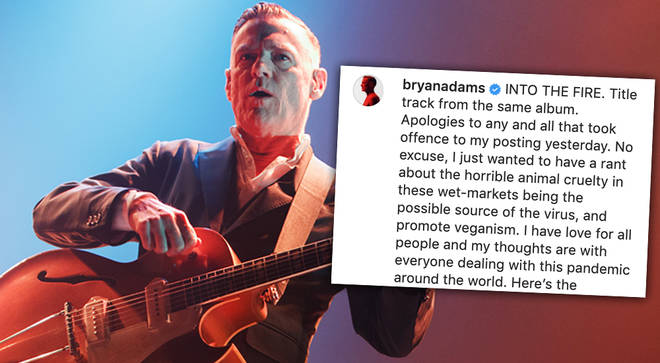 The singer has issued an apology following his expletive-filled social media comments about the cancellation of his upcoming London shows due to coronavirus.
Bryan Adams has apologised for his controversial social media rant earlier this week, in which he blamed the coronavirus pandemic on "f*****g bat eating, wet market animal selling, virus making greedy b******s."
Adams explained the reasoning behind his comments, which many saw as anti-Asian or anti-Chinese, on Instagram yesterday (12 May) as he played an acoustic cover of his track 'Into the Fire'.
"Apologies to any and all that took offence to my posting yesterday," he captioned the post. "No excuse, I just wanted to have a rant about the horrible animal cruelty in these wet-markets being the possible source of the virus, and promote veganism.
"I have love for all people and my thoughts are with everyone dealing with this pandemic around the world. Here's the appropriately titled song that would have been performed tonight at the @royalalberthall."
Bryan posted the rant on the night he was originally set to begin a three-night residency at London's Albert Hall, but, like many musicians, the events were cancelled due to the current lockdown measures.
It has been reported that wet markets in Wuhan, China, were the the original source of COVID-19.
Wet markets often sell fresh produce straight from the farm, including meat, fish and other goods, and the wild animals at these kind of markets can lead to extinction and spread disease.