Elton John 'Still Upset With Mother'
30 March 2015, 09:21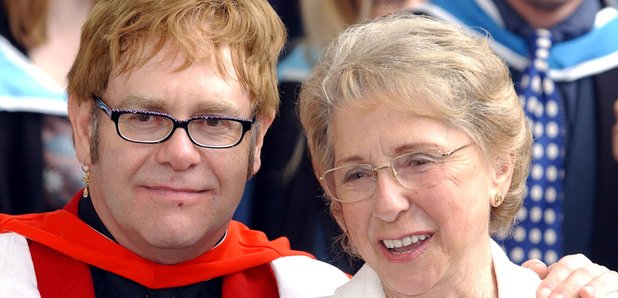 Elton John reportedly remains 'upset and cross' with his mother Sheila Farebrother.
The 90-year-old gave an open account of their seven-year feud to the Daily Mail in an article published earlier this week, alleging the Rocket Man singer said he 'hated' her.
Farebrother also claimed they haven't spoken at all since their falling out, but apparently John will continue caring for her no matter what happens between them.
"He is upset and cross, but people should remember that Elton pays all of her bills and that won't stop,' a source told UK newspaper The Mirror. "Despite everything, Sheila is his mother and he couldn't see her struggle financially, or go without medical care she needs as a 90-year-old woman."
Despite the fact he won't even entertain the possibility of his mother struggling in the last years of her life, it's believed John remains deeply upset by what she said about his relationship with David Furnish.
"But he feels extremely sad that it has come to this - it is without a doubt the worst things have been in the seven years since they fell out," the insider said.
"What a terrible shame it has come to this. Elton hopes that people don't believe everything they read."
Farebrother turned 90 a few weeks ago and she hired an Elton John impersonator to attend her birthday party.
She told the Daily Mail they fell out over a dozen years ago because he allegedly demanded she cut ties with personnel he fired, people she had grown close to over the span of 30 years.
"I told him: 'I'm not about to do that and drop them'," she recalled.
"Then to my utter amazement, he told me he hated me. And he then banged the phone down. Imagine! To me, his mother!"
Watch Elton John performing his classic, Rocket Man below: