Robin Thicke And Pharrell Williams To Appeal Blurred Lines Verdict
12 March 2015, 11:23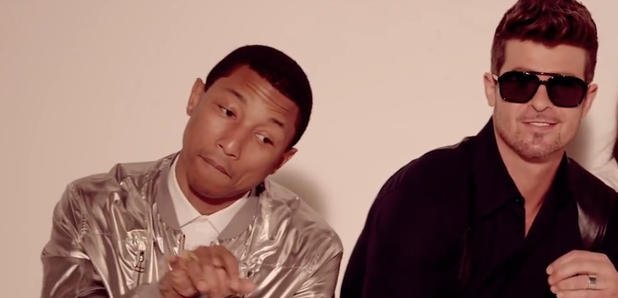 The lawyer representing Robin Thicke and Pharrell Williams has said they intend to appeal the Blurred Lines court ruling.
Following a lengthy trial, the pair were found guilty of copying Marvin Gaye's 1977 song Got to Give It Up for their track Blurred Lines and were ordered to pay £4.8 million in copyright infringement.
But Thicke and Williams' lawyer Howard E. King has confirmed they are planning to appeal.
"We owe it to songwriters around the world to make sure this verdict doesn't stand," King told Fox Business Network.
"My clients know that they wrote the song Blurred Lines from their hearts and souls and no other source. We are going to exercise every post trial remedy we have to make sure this verdict does not stand. We look at it as being in the seventh inning of a game that could go into extra innings."
Following the guilty verdict, Gaye's daughter Nona gave her reaction, saying "It's a beautiful day when you can sit in a courtroom and have justice stand," she told New York Daily News.
"I feel free from the pain. It felt like a painful joke, those two years knowing our song was copied and not getting any serious feedback from their side. That's our father, that's what he left for us, our legacy."
Listen to Blurred Lines below:
Listen to Got To Give It Up below: