8 Things You Might Not Know About Neil Diamond
6 March 2014, 09:00 | Updated: 19 November 2014, 10:49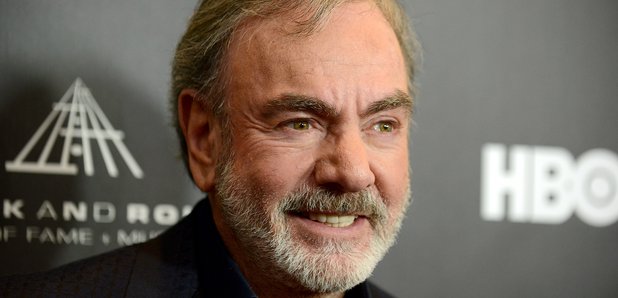 He's one of our favourite musical stars; here's eight things you might not have known about award-winning music legend Neil Diamond.
1. Neil Leslie Diamond was born on January 24, 1941 in Brooklyn, New York City to Jewish Polish immigrants.
2. As a student at Brooklyn's Erasmus Hall High School, Diamond was in the choir and had classes with a young Barbra Streisand - but did not meet properly until 20 years later. The pair topped the Billboard 100 Chart together in 1978 with 'You Don't Bring Me Flowers', and he presented her with an Oscar for Best Song in 1977 for the love theme from 'A Star Is Born'.
3. In 1980, he was offered a $1 million contract to appear in a remake of Al Jolson's The Jazz Singer. The film was critically panned, and he was the first person to win a Razzie for Worst Actor (although he also received a Golden Globe nomination for the same role!). He never acted again. Poor Neil.
The film might have been panned but its soundtrack was a huge success and became Neil Diamond's biggest selling album in America, selling over 5 million copies and reaching number three on the pop albums chart. The soundtrack features Diamond classics including 'Love On The Rocks' and 'Hello Again'
4. A host of other artists have covered his songs including Elvis Presley, Johnny Cash and Lulu
5. Diamond almost had a career in acting. It's odd to think that he was briefly considered for the lead role of Travis Bickle in Martin Scorsese's Taxi Driver and also did a screen test for what was eventually Dustin Hoffman's role in the Lenny Bruce biopic Lenny
6. 'Sweet Caroline' is supposed to have been written about Caroline Kennedy, daughter of President John F and Jackie Kennedy, after Diamond saw her on the front cover of American magazine Life. It went on to become one of Diamond's most successful singles ever.
7. Neil Diamond has sold over 125 millions records, but he's also well known as a songwriter for other artists. He wrote 'I'm a Believer', famously covered by The Monkees and 'Red Red Wine', which was covered by UB40. Their version actually went to number one in the USA and UK, but Diamond's own single peaked at just 63 on the Billboard 100
8. We talk about Diamond being a musical legend; and he is. He was received 11 Grammy nominations and has been inducted into the Rock and Roll Hall of Fame and Songwriters Hall of Fame. He was honoured at the Kennedy Center, and has a star on the Hollywood Walk of Fame