Busker gets cash and thumbs up from Paul McCartney in London: 'I just couldn't believe my eyes!'
16 March 2020, 13:00 | Updated: 16 March 2020, 17:06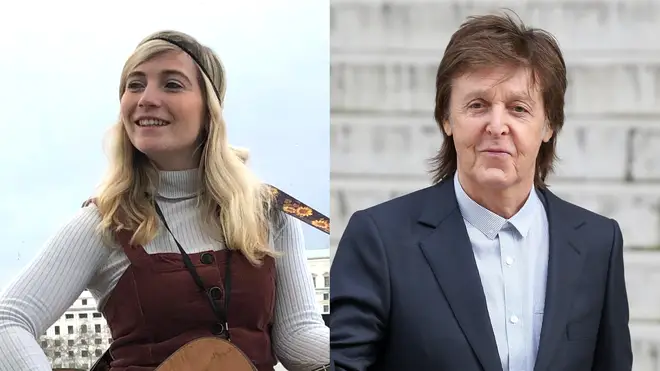 Busker Charlotte Campbell was performing one of her usual setlists in London last week, only to be given the surprise of her life, when a certain Sir Paul McCartney approved of her music.
Charlotte was singing and playing guitar at Charing Cross station, when the former Beatle passed by and dropped some cash in her guitar case.
This was soon followed by a typical Paul McCartney-esque thumbs up, the ultimate approval from the legendary artist.
Tonight busking at Charing Cross station I had a drop in my guitar case from Sir Paul himself - @PaulMcCartney - I was absolutely speechless, I had so many things I wanted to say but all I managed was "thanks Paul" - I could have fainted to tell you the truth!

— Charlotte Campbell (@Ccampbellmusic) March 11, 2020
Smooth Radio caught up with Charlotte to hear more about the incredible story.
"I was busking at Charing Cross station, playing a mix of covers and original music," Charlotte told us. "I happened to be playing one of my own songs when Paul McCartney dropped some money into my case!"
Explaining her thoughts when she realised it was Sir Paul, she said: "As he bent down to drop the money I recognised him immediately, but I did a double take because I just couldn't believe my eyes!
"And then I managed to stutter 'thanks Paul' - I had so many things I wanted to say but none of them seemed like enough, and he was already quick-footing his way towards the platforms.
"So I started playing the first Beatles song that came to mind: 'I Wanna Hold Your Hand', and just stared at him as he walked away.
"I was so happy to see him turn back and give me a thumbs up - I like to think as a review of my rendition of his own song."
When we asked if she was definitely sure it was him, Charlotte said: "I've gone over and over it in my head thinking; surely not? You must have dreamt it!
"But I feel pretty assured that I wasn't mistaken because after I'd finished singing the Beatles number a man who had been watching me rushed over and said 'That was him wasn't it? I know it was him!', and I was so relieved that he saw him too!
"As well as that, a friend of mine, Aymee Weir, who busks in Charing Cross regularly has also had a drop from Sir Paul - so its not his first trip through the station, surprising buskers and the public!"
Brown Eyed Girl - Van Morrison Cover
On what she would say to Sir Paul if she met him again, she said: "I'd like to tell him what an inspiration he is. That I grew up listening to his music and it has influenced my life indescribably. But I'm sure he has heard that a million times before anyway!"
Talking about how people can see her perform, Charlotte said: "I gig regularly in London, and when I'm not gigging I'm usually busking to promote myself more.
"I play often along the Southbank, just under the London Eye and in the train stations, Charing Cross and Waterloo are my favourites."
You can hear more of Charlotte's music at www.charlottecampbell.co.uk.