Robbie Williams' reaction to daughter Teddy singing 'Angels' is adorable - video
16 May 2019, 12:01 | Updated: 9 September 2019, 22:51
Robbie Williams' posted a video of his six-year-old daughter Teddy singing her own version of her dad's hit song 'Angels' and Robbie's proud reaction is wonderful.
Posted by Robbie on Instagram with the title: "The best cover of Angels I've ever heard," the clip shows his daughter singing the 1997 hit song while the pair sit at their kitchen table.
Proud Robbie mouths along with Teddy, encouraging her and smiling as she sings to him - and the clip received an outpouring of love from his Instagram followers.
One Direction's Niall Horan posted a long string of red heart emoji's to show his appreciation for the video and other comments read: "Love Robbie's face – so proud!" and: "You should sing it with Teddy on stage at some point."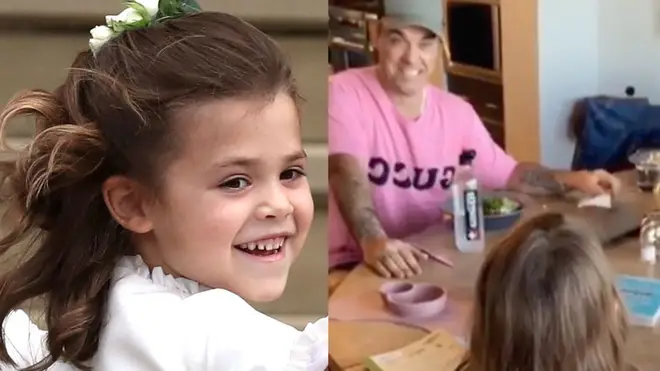 The latest video comes after proud Robbie has posted videos in the past of his daughter.
Videos he's previously posted for followers include a clip of himself and Teddy performing a rap at his kitchen table and an adorable speech she gave for his birthday.
Robbie Williams has previously spoken of Teddy's performing genes, saying it may be inevitable that his daughter goes into showbiz.
Speaking to the Daily Star the 'Feel' singer said: "Teddy, our daughter, we're trying to keep her away from show business, but I think it's a useless thing we're trying to do.
"She actually cries when I go on stage because she can't.
"She's already destined for a life in show business. But we shall see, who knows?"
The six-year-old hit the world stage in October last year when she was asked to be a bridesmaid at Princess Eugenie's wedding alongside Princess Charlotte and pageboy Prince George.
Teddy captured the world's hearts on the day when she was pictured waving excitedly on the steps at St. George's chapel and an adorable video emerged of the youngster asking Sarah, Duchess of York if she was the Queen.