Rod Stewart surprises couple with wedding singalong after Thomas Cook disaster
4 October 2019, 10:19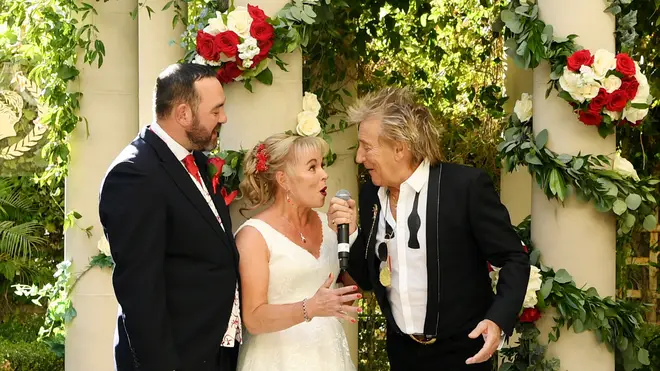 Sir Rod Stewart was a hero recently when he surprised a couple whose special wedding was almost ruined by the collapse of Thomas Cook.
Sharon Cook and Andrew Aitchison from Liverpool were set to get married in Las Vegas, and had booked their flights with the company, only to see it collapse nine days before their big day.
Plans for the couple to marry on Wednesday (October 2) went ahead as planned, after Caesars Palace stepped in to help.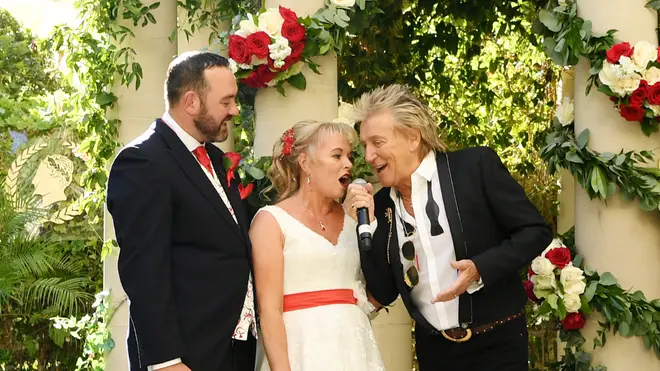 The hotel booked new flights for the couple and their guests, and even sorted out a special guest to serenade the bride: Sir Rod Stewart.
"Rod Stewart just turned up at our wedding and sang to my wife," the groom tweeted.
"I can't believe what has happened in the last week and this has just topped it off."
Rod Stewart Surprises British Newlyweds with Impromptu Wedding Performance
Aitchison thanked Sir Rod, who had "made our dream wedding", describing him an "absolute legend."
After his performance of 'Have I Told You Lately', Sir Rod invited the couple to watch his show in the town.
"I literally said 'I do' and there's Rod Stewart, I'm shocked," Sharon told ITV News. "I was like 'what?'"What a wonderful man, he has made me feel special, he said some lovely things to me and for him to take this time out and do that - wow."
The couple had spent £9,000 on flights with Thomas Cook, and had posted on Twitter: "Five days ago travel and wedding plans in tatters. In 12 hours there will be 18 of us heading to Heathrow for our Delta flight on our way to Caesars Palace."
They later flew first class on Delta Air Lines and were picked up in limousines, with their hotel accommodation upgraded to penthouse suites.
Rod Stewart recently announced plans to release a special album with the Royal Philharmonic Orchestra.