Music Stars Including Tony Bennett Honour Stevie Wonder
11 February 2015, 16:22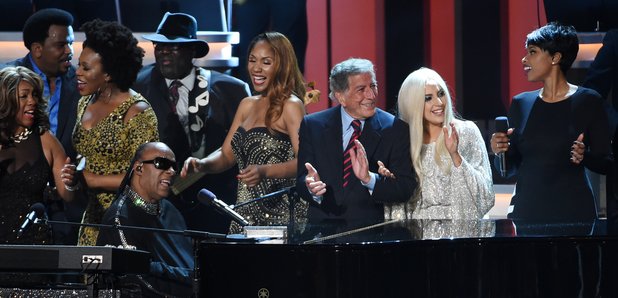 Stars of the music world, including Beyonce to Tony Bennett, joined together yesterday to honour Stevie Wonder.
The tribute opened with Beyoncé performing 'Fingertips,' the song that put the child prodigy from Detroit on the Motown map at the age of 12.
Wonder holds the distinction of having won 25 Grammy awards, more than any other musical artist. He also won Album of the Year three times in the space of four years, in 1973, 1974 and 1976, the last one for his most famous work 'Songs in the Key of Life.'
Tony Bennett called him Wonder "one of the greatest jazz artists who ever lived" and performed 'For Once in My Life'.
Lady Gaga said "people throw the word genius around a lot, but Stevie Wonder you truly are a genius" before performing an energetic rendition of 'I Wish'.
Wonder's daughter Aisha sang singer Ne-Yo for 'Isn't She Lovely,' the song her father wrote in honour of her birth.
Pharrell sang 'Don't Worry 'Bout a Thing' with Ryan Tedder, frontman of OneRepublic and Italian tenor Andrea Bocelli performed a solo of 'I Just Called to Say I Love You'.
"I thought it was simple, but when I decided to sing it, Jesus, it was so difficult," Bocelli told Wonder.
Annie Lennox was also among the evening's performers.
Wonder himself performed a final medley that included 'Superstitious' and 'You Are the Sunshine of My Life'.
The two-hour television tribute will broadcast in the United States on CBS on February 16 - see pictures from the event below.