Stevie Wonder stands by American Football stars with Donald Trump protest
25 September 2017, 12:09 | Updated: 25 September 2017, 12:29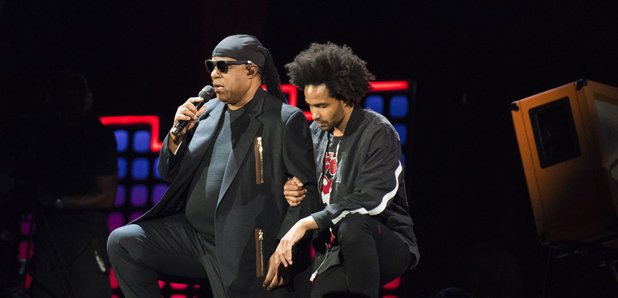 Stevie Wonder has become the latest American icon to take a stance against President Donald Trump, by taking a knee at the Concert for Charlottesville event in New York.
Following suit from many NFL players who have knelt during the national anthem in recent months, Wonder made his feelings known at a festival on Saturday night.
The 'Sir Duke' singer said that it was an emotional night for him at the Global Citizen Festival on Central Park's Great Lawn, adding that "my mother cries in heaven for me."
"She left me in a world where she believed I would be able to see. And I do," he explained. "But not in the way she imagined."
Stevie Wonder calls out Donald Trump as he takes a knee for America during the #GlobalCitizenFestival.#TakeAKnee pic.twitter.com/JFjq0klOU0

— James Melville (@JamesMelville) September 24, 2017
Wonder is the latest name in a growing list of people joining forces against Trump, after the President said that owners of American Football teams should fire players who sit or kneel during the national anthem.
"What I have seen too much if is breaking my heart," Wonder said, referring to the violent events in Charlottesville in August. "I have seen hate marching down the streets disguised as a cry for equality.
"If I can see it, dammit, I know you can see it," he added.
After sharing lyrics to his unreleased song 'Fear Can't Put Dreams to Sleep', Wonder dropped to one, and then two knees, with fellow performer Dave Matthews following suit.
"I take a knee for America and two knees in prayer for our world. Amen." Wonder and Dave Matthews Band then played a moving version of John Lennon's 'Imagine', before ending on a merry tone, with a funky rendition of his classic track 'Superstition'.