Watch Tom Jones' Greatest Live Performances - Videos
29 January 2015, 15:47 | Updated: 29 January 2015, 15:53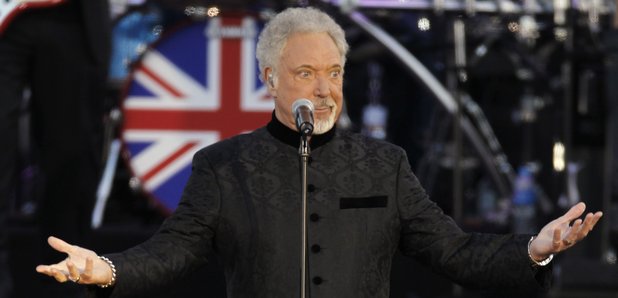 As Tom Jones prepares to perform at the Grammy Awards, we pick a selection of his best live performances.
Sir Tom Jones, 74, has been confirmed to perform at the 57th Annual Grammy Awards on February 08. The 'Delilah' singer will perform a duet with his friend and pop star, Jessie J.
We're chuffed to hear that news; to get in the mood, we've picked a shortlist of Sir Tom's best live performances. Have a watch:
Delilah - Queen's Diamond Jubilee Concert, 2012

2012 was an incredible year to be in the UK, not least because of the Diamond Jubilee celebrations during the summer. Jones was arguably the best performer at the concert, held in Buckingham Palace's grounds. He performed a short set including this classic, Delilah.
Turn On Your Lovelight/ Shake, 1969

Tom Jones gave some of his best performances on the television series 'This Is Tom Jones', which originally ran from 1969 to 1971. The series led to a Golden Globe Award nomination for Jones, in the 'Best Actor In a Television Series - Musical or Comedy' category in 1969. Check out his moves!
Rock n Roll Medley, 1974

Seen here performing on Happiness Island in 1974, this might be our favourite Tom Jones live video - just check out the moves he's busting! Jones has spoken in the past about having 'no rhythm,' but watching this, we think he's just being coy!
Raise Your Hand, 1969 - with Janis Joplin

Tom Jones duets with Janis Joplin during a television show in 1969. Joplin featured 'Raise Your Hand' on her 1993 compilation, Janis.
Mama Told Me Not To Come, 2010 - with Kelly Jones

Tom Jones and Stereophonics' Kelly Jones performed 'Mama Told Me Not To Come' on Jools Holland's Annual Hootenanny in 2010. One of the things we like most about this performance is the obvious rapport the pair. The single featured on Tom Jones' 1999 album, Reload. The album brought in a new wave of fans and it went on to become the biggest album of his career.
Hyde Park, 2012 - with Jessie J

It hasn't yet been announced which song Tom Jones and Jessie J will be performing together at the Grammy Awards 2015 in February. However, if their on-stage chemistry is anything to go by, we're in for treat!
We'll be bringing you all the news and photos from the Grammy Awards 2015.
Which is your favourite Tom Jones live performance? Let us know in the comment box below.