Ellie's Story - Rainbows Hospice for Children & Young People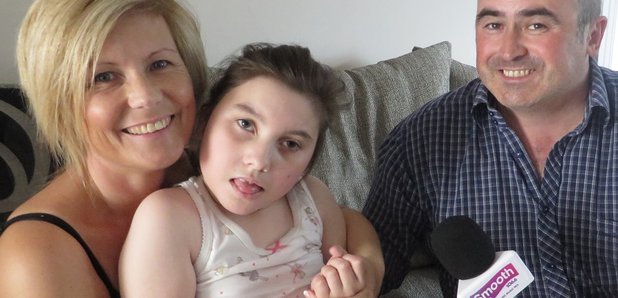 In 2014, Make Some Noise supported Rainbows Hospice for Children & Young People in Loughborough - where life-limited children and their families can find care and support.
Sadly, some children simply don't live long enough. Since 1994 Rainbows have opened their doors and hearts to those children and the people who love them most. Global's Make Some Noise is committed to helping them keep on bringing care and happiness to children and families from across the East Midlands.
Rainbows' incredible team help relieve symptoms, improve quality of life, support parents and siblings through their bereavements and care for children until the end.
Smooth Radio's Gareth Evans is pictured above with 11 year old Ellie and her mother Jo, who benefit from respite care at Rainbows.
Ellie was left severely disabled after suffering a stroke while in her mother's womb. She can't walk or talk and has endured many long and serious operations. Ellie's parents Jo and Kevin discovered Rainbows in 2012.
Jo said: "I didn't want Ellie going to Rainbows at first because I thought a hospice was somewhere where people went to die. But once I came and saw it, I realised that it is just so lovely. It is a brilliant place and hopefully this year, Ellie won't be in hospital as much and we will get to benefit from it a lot more."
Ellie's brother and sister have also benefited from Rainbows sibling support service.