10 Of The Best Ever Songwriting Duos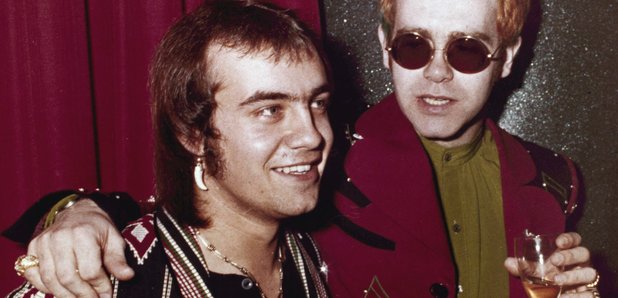 Behind many great artists, is AMAZING songwriting. Here are some of the duos that have written the world's biggest hits. We can't imagine music without any of them...
1. Elton John And Bernie Taupin
With Elton as composer, Taupin's lyrics have brought magic to songs like 'Rocket Man', 'Tiny Dancer' and 'Candle In The Wind'.
In fact, 33 million people bought 'Candle In The Wind' in 1997 which was a musical tribute to Diana, Princess of Wales.
Elton is on record as saying that "without Bernie Taupin there would be no Elton John."
2. Carole King And Gerry Goffin
This husband and wife duo wrote many of the '60s biggest hits including 'Will You Still Love Me Tomorrow', 'Take Good Care Of My Baby', and 'The Loco-Motion'.
Their songs were recorded by the likes of Aretha Franklin, James Taylor and the Beatles.
3. John Lennon And Paul McCartney
Early on, this legendary duo decided that all songs written by them as individuals or as a pair should be credited as Lennon-McCartney.
Between 1962 and 1969, they published 180 jointly credited songs with some taking the credit McCartney-Lennon.
"He provided a lightness, an optimism, while I would always go for the sadness, the discords, the bluesy notes", John Lennon once said in an interview with Playboy.
4. Benny Andersson And Bjorn Ulvaeus
The ABBA song-writing pair met while both on the road with other bands and went on to form one of the most successful pop groups of all time.
The group had 18 number one hits worldwide including memorable anthems 'Dancing Queen', 'Take A Chance on Me' and 'Knowing Me Knowing You'.
When the band broke up in 1983, the pair had continued song-writing success with musicals 'Chess' and 'Mamma Mia!'
5. Ashford & Simpson
This pairing really were a match made in heaven - husband and wife Nickolas Ashford and Valerie Simpson wrote for the Motown label.
Working with artists like Diana Ross, Ray Charles, Aretha Franklin and Marvin Gaye, they had huge hits with 'Ain't No Mountain High Enough', 'Ain't Nothing Like The Real Thing' and 'I'm Every Woman'.
The couple also had success as recording artists and who can forget 'Solid' (As A Rock)?!
6. Burt Bacharch And Hal David
Bacharach and lyricist David are responsible for classics such as 'Raindrops Keep Falling On My Head', 'I Say A Little Prayer', 'Close To You' and 'Alfie'.
Their songs have been recorded by Dionne Warwick, Tom Jones, Cilla Black and The Carpenters.
"I try to create an emotion to which others can respond," David has said of his lyrics.
7. Mick Jagger and Keith Richards
Originally this duo covered the work of other artists but the story goes that their manager locked them in a kitchen for the night and told them not to come out until they had written a song!
As a writing force, they have released more than 100 singles including '(I Can't Get No) Satisfaction' and 'Honky Tonk Women'.
8. Jerry Leiber And Mike Stoller
This American pair wrote or co-wrote over 70 hits including 'Hound Dog', 'Jailhouse Rock' and 'Stand By Me' (co-written with Ben E. King).
Their songs have been recorded and re-recorded by many musical legends including The Beatles, Elvis, The Beach Boys, Barbra Streisand, Aretha Franklin and countless others.
9. Nile Rogers And Bernard Edwards
This funky duo are credited with producing some of the best disco hits of the '70s and '80s.
They met as session musicians in New York and formed many bands before teaming up with singer Norma Jean Wright to become Chic.
Together bassist Edwards and guitarist/vocalist Rodgers wrote hits like 'Le Freak', 'Good Times', 'Lost In Music' and 'I'm Coming Out'.
10. Normal Whitfield And Barrett Strong
Another force of Motown, this pair are responsible for some absolute classics including 'I Heard It Through The Grapevine', 'War' and 'Papa Was A Rollin' Stone'.
Both of them were inducted into the Songwriter's Hall of Fame in 2004.
Which Of These Duos Is Your Favourite? Leave A Comment Below!