5 of Aretha Franklin's greatest live performances, from 'Nessun Dorma' to 'Natural Woman'
13 August 2018, 16:21 | Updated: 17 August 2018, 11:48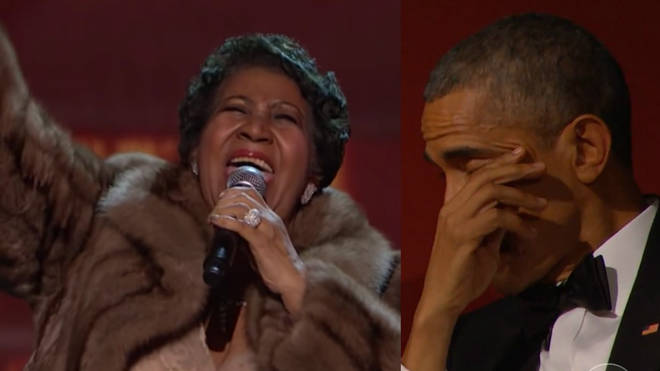 If you needed an example of what pure talent and incredible soul is, you just need to watch any Aretha Franklin video.
Aretha Franklin has often brought people to tears through her powerful and emotional vocal ability. Put it this way: there's a reason she is dubbed the Queen of Soul.
Here are just five times that she brought the house down and then some:
Bringing Barack Obama and Carole King to tears with 'Natural Woman'

When songwriter Carole King was awarded with a Kennedy Center prize in 2015, there was only one lady who was going to sing one of her songs.

Aretha surprised Carole with a rousing performance of her classic ballad '(You Make Me Feel Like a) Natural Woman'. Starting off on the piano and then stepping out onto the stage to finish with an almighty attack of soul, President Obama and all in attendance couldn't believe what they had witnessed.

Filling in for Pavarotti on 'Nessun Dorma'

At the 1998 Grammys, Luciano Pavarotti was scheduled to perform his signature piece, 'Nessun Dorma'.

However, he was too ill to attend and just 20 or so minutes before, Aretha stepped up and pretty much said "I'll give it a whirl". Incredible.

Belting out 'Respect' in her hometown

This was part of a special 'Aretha Franklin Day' in Detroit back in 1968, with Martin Luther King Jr in attendance.

Aretha shows just how incredibly talented she was from such a young age, and made this soul classic her own.

Emotionally paying tribute at Martin Luther King Jr's funeral

Aretha became a friend of Martin Luther King Jr, and had the opportunity to tour the South with him when she was just 16 years old.

Her tribute to him at his funeral - performing 'Precious Lord' - was particularly powerful considering her personal relationship with the civil rights icon.

Taking on Adele for 'Rolling in the Deep'

Two different generations collide in this fantastic medley on The Late Show with David Letterman in 2014.

Aretha covered Adele's 'Rolling in the Deep' and mashed it up with 'Ain't No Mountain High Enough' for a fantastic performance.