These are the 6 best Australian singers of all time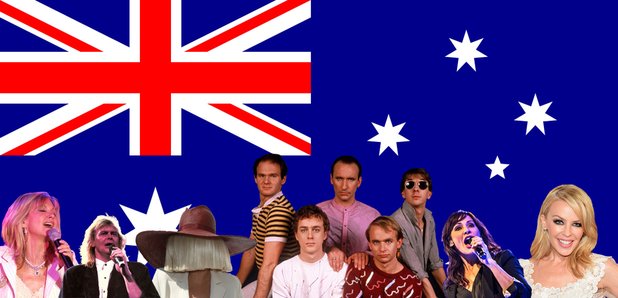 Happy Australia Day!
1. Olivia Newton-John
Olivia Newton-John, arguably best-known for her role as Sandy in the musical film Grease, is not only an Australian singer, but also a songwriter, actress, entrepreneur and activist. She has four Grammy-awards to her name, with five number no. 1 and ten other top 10 singles.
2. Kylie Minogue
Kylie Minogue, often simply known as Kylie, is also multi-talented Aussie with many strings to her bow: first and foremost, she's a singer, but she is also a songwriter, actress, dancer and philanthropist. Having first begun her career in the Australian soap opera Neighbours, she is now often referred to as the Princess of Pop and Goddess of Pop - not surprising considering she is the highest-selling Australian artist of all time!
3. Natalie Imbruglia
The second singer on our list to originate from the Australian soap opera Neighbours, but hit our radios after her cover of Endaswap's Torn became an international hit! As well as modelling for L'Oreal and Gap, plus starring alongside Rowan Atkinson in Johnny English, she has right ARIA Awards, two Brit Awards, one Billboard Music Award and three Grammy nominations!
4. Sia
Sia Kate Isobelle Furler, simply known as Sia, only truly came onto our radio radar in 2010, when she started collaborating with the likes of David Guetta for Titanium and Diamonds with Rihanna. Following that success, she released her sixth studio album which debuted at No. 1 in the US and included the hit single Chandelier, which also won her an MTV Video Music Award.
5. John Farnham
So John Farnham may strictly speaking be English-born, but in our eyes and the rest of the world - he's Australian! After starting out as a teen pop idol from 1967-79, he managed to maintain his career as an adult contemporary singer. His hit solo single, You're the Voice, peaked at no. 1 in the Australian singles charts in 1986 and it's album held the no. 1 position for a staggering 25 weeks! Farnham is the only Australian artist to have a no. 1 single in five consecutive decades, mirroring that of Sir Cliff Richard in the UK. Finally, he won the 1987 Australian of the Year award, so if that isn't an accolade enough we're not sure what is!
6. Men at Work
It would be so wrong to not feature Men at Work on this list! Not are they an Australian rock band, their most famous song is literally about Australian - Down Under. In January 1983, they were the first Australian artists to have a simultaneous no. 1 album and no. 1 single in the US, with Business as Usual followed by Down Under. With the same two tracks, they also achieved the same accolade in the Australian, New Zealand and UK charts.
Bonus - The Bee Gees
Okay, this is a bit of an honoury mention. The Gibb Brothers - Barry, Robin and Maurice - that form the Bee Gees are actually from England. However, they moved to Australia where they transformed their existing band Rattlesnakes into one of the world's best selling music artists of all time, the Bee Gees. The group have now sold more than 220 million records worldwide! In 1997, the group were inducted into the Rock and Roll Hall fo Fame, and their citation says "Only Elvis Presley, the Beatles, Michael Jackson, Garth Brooks and Paul McCartney have outsold the Bee Gees."