10 Songs That Tried To Change The World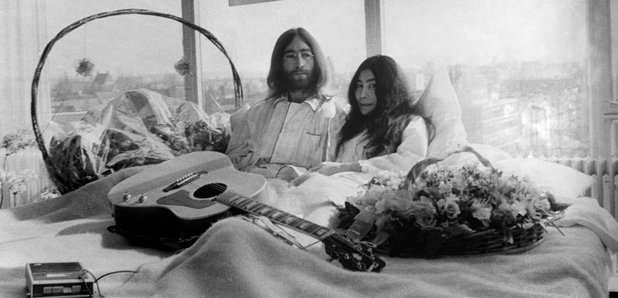 "How many roads must a man walk down, before you can call him a man?" We've put together ten songs than inspire peace in the world.
1) Imagine - John Lennon (1971)
Lennon credits Yoko Ono with giving him the inspiration to write 'Imagine' - the lyrics were influenced by her book 'Grapefruit'. Lennon told Playboy Magazine in 1980, "If you can imagine a world at peace, with no denominations of religion...then it can be true."
2) What's Going On - Marvin Gaye (1971)
The lyrics in this song were apparently inspired by Marvin's brother Frankie's stories of the Vietnam War. It was one of the first Motown songs to make a political statement and came at a time when racial tension was high in the States.
3) War - Edwin Starr (1970)
Written by Motown duo Normal Whitfield and Barrett Strong, this was an anti-Vietnam War protest song originally meant for The Temptations. Considered too risky for the group, Edwina Starr volunteered to record it and it became a number one hit - even earning kudos from John Lennon.
4) What A Wonderful World - Louis Armstrong (1967)
This song was written as a plea for change during a racially charged time in the US. Singer Louis Armstrong was a prominent figure in the civil rights moment and when nine students were prevented from entering Little Rock Central High School, Louis made headlines saying,"The way they are treating my people in the South, the government can go to hell."
5) Blowin' in the Wind – Bob Dylan (1963)
Although many people call this a 'protest song' - this is not what Dylan intended. This song was a huge influence on Sam Cooke and convinced him to become more politically charged in his music. It has been covered by many artists including Stevie Wonder, Dolly Parton and Neil Young.
6) Strange Fruit – Billie Holiday (1939)

This song was written by teacher Abel Meeropol and intended to protest American racism which had led to the lynching of African-Americans. The song was covered by many singers but it was Holiday's version that was inducted into the Grammy Hall of Fame.
7) A Change Is Gonna Come - Sam Cooke (1964)
This is just one of the songs Sam was inspired to write after heading Bob Dylan's 'Blowin' In The Wind'. The song was inspired by a number of incidents in Cooke's own life including an event in which him and his entourage were turned away from a 'whites-only' motel.
8) Redemption Song – Bob Marley (1980)
The lyrics of this song were inspired by a speech given by Jamaican politician Marcus Garvey including "emancipate yourself from mental slavery". At the time of writing, Marley was also suffering from cancer in his toe which eventually claimed his life.
9) Man in the Mirror – Michael Jackson
Jackson and his producer Quincy Jones chose this song as they were looking for an uplifting song for the 'Bad' album. This was the first ever song written by lyricist Siedah Garrett and it was her vocals on the demo. The music video makes a powerful political statement with footage of major news events.
10) One – U2 (1992)
This song was written at a point where there was tension within the band and it was translated into the lyrics. Also the song was recorded at Hansa Studio in Berlin during the reunification of Germany. It inspired the name for Bono's charity organisatin - the 'ONE Campaign'.