These are the 10 best Billy Joel tracks of all time
19 November 2017, 12:00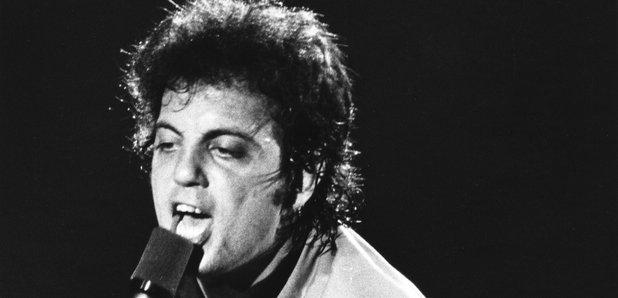 Throughout November 1983, Billy Joel held the no. 1 spot in the UK singles chart with 'Uptown Girl'. But does it make it into our Top 10 Billy Joel songs? There's only one way to find out…
10. Captain Jack
From Piano Man (1973)
This track is considered by some to be the most important and pivotal of Billy Joel's early compositions because of his performance of the song at an April 15, 1972, live radio concert at Sigma Studios on WMMR in Philadelphia, and the subsequent airplay this live version received on the station. This brought him to the attention of major record labels, including Columbia, with whom he signed a recording contract in 1973.
Joel wrote 'Captain Jack' in late 1971, while sitting in his apartment in Oyster Bay, Long Island, looking out the window, trying to find inspiration for a song. Across the street was a housing project and he observed suburban teenagers going into the project and obtaining heroin from a dealer known as 'Captain Jack'.
"It's about coming out of the New York suburbs," he said. "But in my travels I have seen a lot of the same suburb all over the country. The song is sort of brutal, but sometimes it is good to be brutal and offend people—it keeps them on their toes."
9. Only the Good Die Young
From The Stranger (1977)
"Come out, Virginia, don't let me wait/ You Catholic girls start much too late." What an opening line!
Unsurprisingly, some radio stations banned the song back in 1977. But as usual, the controversy around the song only helped sell more copies of it. The song was inspired by Billy's real-life crush on a Catholic girl named Virginia.
8. Scenes From an Italian Restaurant
From The Stranger (1977)
Even though this is one of his longest and most beloved songs, it was never released as a single. The song tells the tale of high school sweethearts Brenda and Eddie, a relatable coulee who couldn't survive the pressure of the real world.
For years, his fans wondered which exact Italian restaurant he was singing about, and he recently revealed it as Fontana di Trevi in New York.
7. Goodnight Saigon
From The Nylon Curtain (1982)
Billy Joel wrote this after talking to some friends who fought in the Vietnam War. Having not fought in the war himself, rather than pursuing an anti-war song he chose talk about the experience of soldiers.
"A lot of my friends did go," he said. "I felt bad. I disagreed with the political reasons for that war." A few years after his friends came back home, they told him their war stories and encouraged him to write a song. "They said, 'We'll tell you what happened to us and you write a song about it,'" he recalled. "I realised you don't have to have lived it as long as you researched it and talked to people that were there."
6. Uptown Girl
From An Innocent Man (1983)
What's more relatable than lyrics describing a working-class "downtown man" attempting to woo a wealthy "uptown girl." We've all been there!
Apparently, Billy Joel had originally titled the song "Uptown Girls" and it was conceived on an occasion when he was surrounded by Christie Brinkley, Whitney Houston and his then-girlfriend Elle Macpherson. According to numerous interviews, the song was initially written about his relationship with Ella Macpherson, but it ended up also becoming about his soon-to-be wife, Brinkley (both women being two of the most famous supermodels of the 1980s).
The track peaked at number three on the Billboard Hot 100 and number one in the UK, staying at that position for five weeks as his only number one hit in the country.
5. She's Always A Woman
From The Stranger (1977)
This is a love song about a modern woman, or more specifically Billy Joel's then-wife, Elizabeth Weber. In the song the man falls in love with the woman for her quirks as well as her flaws.
At the time, Elizabeth had taken over management of Billy Joel's career, and was able to put his financial affairs in order after Joel had signed some bad deals and contracts. She was a tough and savvy negotiator who could "wound with her eyes" or "steal like a thief", but would "never give in". Because of her tough-as-nails negotiating style, many business adversaries thought she was "unfeminine," but to Billy Joel, she was always a woman.
The single originally peaked at no. 17 in the U.S. in 1977, and at no. 53 in the UK in 1986, however it re-entered the UK chart in 2010, reaching #29.
4. We Didn't Start the Fire
From Storm Front (1989)
The lyrics for the 1989 US Billboard Hot 100 No. 1 single include brief, rapid-fire allusions to more than 100 headline events between 1949, the year of Joel's birth, and 1989.
The song was a surprise hit and not long after many people had memorised the lyrics. However, Billy Joel has said he doesn't rate the song due to its lack of strong melody.
3. New York State of Mind
From Turnstiles (1976)
Even though Billy Joel is one of the most famous Long Islanders of all time, but in the mid-1970s he spent three years in Los Angeles. HIs time there inspired one of his most famous songs, which appears later in this list, but he never truly felt at home on the west coast.
He wrote 'New York State of Mind' on a bus back to New York as he was travelling along the Hudson River line, and it later became an unofficial anthem for the city.
The song was famously performed at The Concert For New York City in October 2001 as part of a benefit for the New York City Fire and Police Departments and the loved ones of families of first responders lost during the 9/11 terrorist attack.
2. Just the Way You Are
From The Stranger (1977)
This track was Billy Joel's first US Top 10 and UK Top 20 single (reaching no. 3 and no. 19 respectively), then earned two Grammy Awards for Record of the Year and Song of the Year in 1979.
The track was written by Joel as a tribute to his ex-wife, Elizabeth Weber. In the song, he pledges his undying love, regardless of what trouble they may hit down the road. He even promises to love her forever. Sadly they split five years later and Joel didn't perform it for many years after.
1. Piano Man
From Piano Man (1973)
This was Billy Joel's first single and it's our no. 1 choice! Even though it only peaked at no. 25 on the Billboard Hot 100 Chart, it has become a classic favourite and Billy Joel's signature song.
It is based on his time playing piano at Executive Room bar in Los Angeles and all the familiar faces he saw there, except he was calling himself Bill Martin.
So there you have it, our top ten Billy Joel songs. But what would the artist himself pick as his favourite tracks? Watch here! Some of his choices may surprise you…