Blue Peter: What happened to all the presenters over the past 60 years?
15 October 2018, 12:13 | Updated: 16 October 2018, 15:04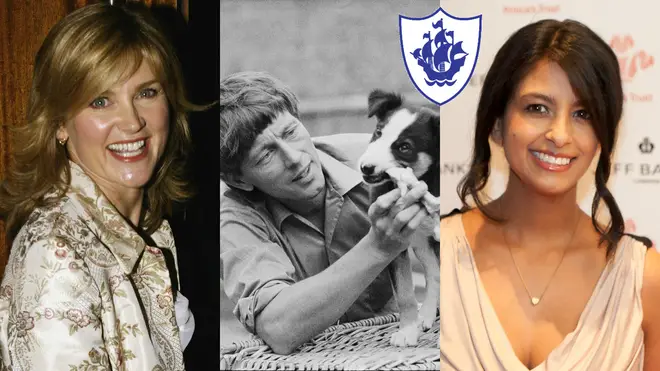 Blue Peter is a British national institution, and celebrates its 60th anniversary in 2018.
Let's look back at all the stars who famously hosted the iconic children's show, and what they did next...
Christopher Trace (1958 to 1967)

Picture: Getty

Christopher Trace was one of the two original presenters of Blue Peter when it launched on October 16, 1958.

He left in 1967 to become a writer and Production Manager for a film company, before returning to TV and radio. He passed away in 1992 at the age of 59 from cancer of the oesophagus.

Leila Williams (1958 to 1962)

Picture: PA

Aged just 21, Leila Williams joined Blue Peter a year after winning Miss Great Britain in 1957.

She later stopped presenting on TV to run pubs with her husband Fred Mudd, the lead singer of pop group The Mudlarks, before retiring in Spain.

However, she still sends Blue Peter a birthday card every year, and she turned 80 in 2017.

Valerie Singleton (1962 to 1972)

Picture: Getty

Actress and voice-over artist Valerie Singleton joined Blue Peter in 1962. After a decade hosting the show, Valerie presented news and current affairs show Nationwide from 1972 to 1976.

She also continued as a roving reporter on Blue Peter until 1981, and later appeared on The Money Programme and Radio 4's PM 4 for 10 years until 1993. She also celebrated her 80th birthday in 2017.

John Noakes (1965 to 1978)

Picture: Getty

John Noakes was Blue Peter's longest serving presenter, and fronted the show with many co-hosts from 1965 to 1978.

In 1982, he and his wife set sail to travel the world, but became shipwrecked in a hurricane. In 1984, they tried again, but got no further than Majorca and ended up staying there. In 2015, he worried fans after disappearing for 10 hours near his home in Andratx.

He married his wife Vicky in 1965, and lived with Alzheimer's for a "number of years" before his death in 2017 at the age of 83. 

Peter Purves (1967 to 1978)

Picture: Getty

Peter Purves thought Blue Peter would just be a six-month break from acting when he signed up in 1967. However, he stayed for over a decade! 

He continued to present segments for the show even after leaving, and went on to host Crufts, Stopwatch and We're Going Places. He is also a noted pantomime director. He turned 79 in 2018.

Lesley Judd (1972 to 1979)

Picture: Getty

Dancer Lesley Judd joined after teaching Valerie, John and Peter a routine on one episode of the show. She left in 1979 to look after her husband Terry Gabell, a editor on the show, who had multiple sclerosis.

She later fronted her own children's show, In The Limelight With Lesley, and was a presenter on Radio 4's Woman's Hour between 1982 and 1988.

Now 71, she lives near Toulouse, France, and works as a conference organiser.

Simon Groom (1978 to 1986)

Picture: Getty

Simon Groom was an English teacher before joining Blue Peter in 1978.

After leaving in 1986 he continued to appear for a while as the show's countryside correspondent. He went on to produce several TV documentaries, and hosted Groom's Gold for BBC Radio Sheffield.

Aged 68, he is married to wife Gilly, and they run a sheep farm together in Derbyshire.

Sarah Greene (1980 to 1983)

Picture: PA

At 22, Sarah Greene was the youngest ever presenter when she joined Blue Peter in 1980.

She went on to present Saturday Superstore with Mike Read and Going Live! with Phillip Schofield. She also appeared in Casualty, Brookside and French & Saunders.

Now 59, Sarah competed in Dancing on Ice, and recently guest presented a few episodes of This Morning. She was married to fellow presenter Mike Smith from 1989 until his death in 2014.

Peter Duncan (1980 to 1986)

Picture: PA

Shortly after joining Blue Peter in 1980, the BBC denied claims that he previously worked as a porn actor, after appearing nude in a film earlier on his career.

He also hosted the show Duncan Dares, and continued to appear on Blue Peter on and off until leaving in 1986.

He returned to acting and in 1995 was nominated for an Olivier award for his role in the musical The Card. He married wife Annie in 1980 and they have four children. The family also featured in TV series about them backpacking around the world.

He also served as Chief Scout between 2004 and 2009. He launched The Natural Adventure Company in 2015, specialising in self-guided walking holidays and special interest tours.

Janet Ellis (1983 to 1987)

Janet Ellis with daughter Sophie Ellis-Bextor.

Picture: Getty

Janet Ellis was an actress before becoming a TV presenter. She previously hosted children's puzzle programme Jigsaw. She left Blue Peter in 1987 to have her second child, Jackson Ellis-Leach. Her eldest daughter is singer Sophie Ellis-Bextor.

She has since appeared in episodes Waking The Dead and Hotel Babylon, and celebrity specials of The Weakest Link, Come Dine With Me and Antiques Road Trip. She published her first novel in February 2016, and was given an OBE in the same year.

Mark Curry (1986 to 1989)

Picture: PA

Mark Curry appeared as a child actor in Bugsy Malone and worked on a number of TV shows before being asked to join the Blue Peter team.

After leaving in 1989, Mark has presented other shows including Catchphrase and Change That.

Now 55, he married long-term partner Jeremy Sandle in 2008, and splits his time between his homes in Eastbourne and the Spanish village of Mijas. 

Caron Keating (1986 to 1993)

Picture: PA

Caron Keating presented the show for four years before leaving in January 1990.

She then raised her two sons before returning to TV in 1996, standing in for Richard and Judy on This Morning.

She was diagnosed with breast cancer in 1997, and sadly lost her battle in April 2004, aged 41. 

Yvette Fielding (1987 to 1992)

Picture: Getty

Amazingly, Yvette was just 17 when she joined Blue Peter in 1987.

After leaving the show, she and husband Karl Beattie set up their own production company and produced Most Haunted for the Living channel.

She went on to present a number of paranormal shows, including Ghosthunting With...

Now a mother-of-two, she also runs and co-owns a tea shop in Manchester. She also appeared on I'm A Celebrity... Get Me Out of Here! in 2015.

John Leslie (1989 to 1994)

Picture: PA

Blue Peter's first ever Scottish presenter, John Leslie hosted the show for five years before leaving to become This Morning's entertainment correspondent on ITV.

In 2001, Leslie and Fern Britton took over from Richard and Judy as the show's main hosts, but he left the following year due to claims made against him by presenter Ulrika Jonsson.

In June 2003, he was charged with assaulting a woman in 1997, but the charges were later dropped. Five years later, he faced other assault accusations, but the case did not reach court. In June 2018, he was acquitted of a fresh assault claim after the charge was found not proven.

Diane-Louise Jordan (1990 to 1996)

Picture: PA

Diane-Louise Jordan turned down a Coronation Street role to join Blue Peter as the show's first black presenter.

A devoted Christian, Jordan later left the show to present Songs of Praise and has hosted the show on and off since.

Her book How To Succeed as a Single Parent was published in 2003, and the 56-year-old also dedicates a lot of her time to charity.

Anthea Turner (1992 to 1994)

Picture: Getty

Anthea Turner had already hosted a few shows when she joined Blue Peter, and later presented GMTV, the National Lottery and Wish You Were Here.

She later married Grant Bovey after a highly-publicised affair before their divorce in 2015.

Now aged 58, she has appeared on Dancing on Ice, First Dates, and Celebrity Antiques Road Trip in recent years.

Tim Vincent (1993 to 1997)

Picture: Getty

Tim Vincent also acted during his four years on Blue Peter, appearing in two series of BBC One drama Dangerfield. 

After leaving the show he presented The Clothes Show and Short Change, and in 2000 returned to acting Emmerdale and the film Sorted.

The 45-year-old is now a correspondent for US channel NBC's Access Hollywood, and has also presented a number of Miss World and Miss USA competitions. 

Stuart Miles (1994 to 1999)

Picture: PA

Since leaving Blue Peter, Stuart has guest presented shows including This Morning, Holiday and Soap Fever. He has also started regularly performing his drag act as a character called Stella Ratner.

The 49-year-old now works in radio and presents a show with former Blue Peter co-star Katy Hill.

Katy Hill (1995 to 2000)

Picture: Getty

After five years on the show, Katy joined the team on Live and Kicking and went on to present Top of the Pops, Football Fever and the Millennium Quiz Show.

She divorced her first husband after two years and soon started dating her Live and Kicking co-star Trey Farley. They married in 2004 and have a daughter called Kaya and a son named Akira.

Now 47, Katy has her own lifestyle and parenting blog and co-presents a radio show with Stuart Miles.  

Richard Bacon (1996 to 1998)

Picture: Getty

Richard Bacon hosted Blue Peter for just 18 months when he was suddenly sacked after he admitted taking cocaine in a London nightclub.

He later said that "positive things came out of" being fired, as he has since had a successful broadcasting career, including guest hosting This Morning and The Wright Stuff, and hosting various radio shows.

He has two children with wife Rebecca, and moved to the US to build a TV career. In 2018, he was in an induced coma after becoming ill with pneumonia, but later recovered.

Konnie Huq (1997 to 2008)

Picture: Getty

In 2017, Konnie was voted the nation's favourite Blue Peter presenter of all time.

After 11 years on the show, Konnie left to present The Xtra Factor, The One Show and wrote a short film, Ahmed & Mildred.

She met her husband Charlie Brooker in 2008 and have two children together.

Simon Thomas (1999 to 2005)

Picture: Getty

Simon previously worked as a runner, and later stepped into replace Richard Bacon after his sacking.

During his six years there, he also presented CBBC Proms in the Park, and later joined Sky Sports News. He is now a regular presenter of live Premier League coverage for Sky Sports.

Simon's wife Gemma, died in November 2017, just three days after being diagnosed with acute myeloid leukemia. They had one son together, and he has spoken openly about dealing with becoming a single parent after a sudden tragedy.

Matt Baker (1999 to 2006)

Picture: Getty

Matt Baker won two BAFTAs for Best Children's Presenter for Blue Peter two years in a row.

From 2009, Matt started co-presenting Countryfile and two years later became a full time host of The One Show in 2011.

He has two children with wife Nicola, and was a runner-up in the 2010 series of Strictly Come Dancing.