The best alternative advent calendars for your 2019 festive countdown
22 October 2019, 16:19 | Updated: 22 October 2019, 16:46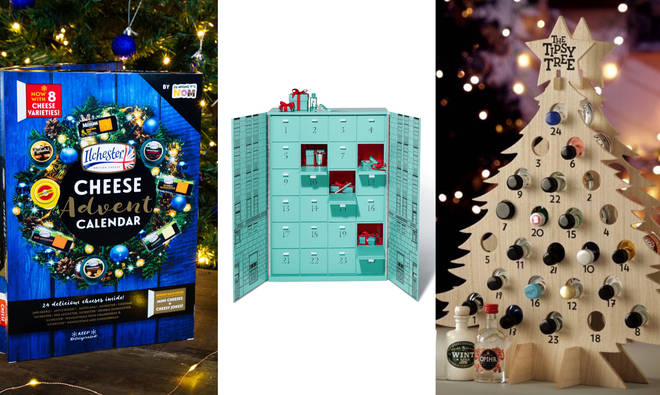 Gone are the days of the humble chocolate advent calendar – instead, we're now spoilt for choice with advent treats ranging from beauty must-haves to selections of quirky cheese.
It's a simple pleasure that we're only rewarded with for one month a year – the feeling of cracking open an advent calendar door to find a treat behind.
But if the simple square of chocolate no longer fulfils your advent needs, we've found the weirdest and surprisingly enticing alternative advent calendars on the market this year that might be more your style.
B&M's 24 Days of Hot Sauce Chilli Lovers Advent Calendar

24 Days of Hot Sauce Chilli Lovers Advent Calendar.

Picture: B&M

Fancy a bit of fire on the cold, December mornings? B&M have got you covered. This advent calendar is filled with 24 days worth of hot sauces, with spice levels ranging from spicy to extra hot n spicy.

But be warned – it's a Russian Roulette of sauces as you won't know the level of spiciness until you taste it.

Lush Advent Calendar

Lush Advent Calendar.

Picture: Lush

What better excuse to have a luxurious bath almost every day of December, than a new Lush treat?

Lush is finally bringing out a much anticipated advent calendar, following years of pleading from its dedicated shoppers. The calendar will include 24 full size Lush products, with multiple bath bombs – but don't get too excited, there's only 500 available so we imagine they're going to fly off the shelves.

Cheese Advent Calendar

So Wrong It's Nom Cheese Advent Calendar.

Picture: So Wrong It's Nom

The ultimate savoury advent calendar has arrived in the form of 24 individually wrapped cheeses from seven varieties.

So Wrong It's Nom is back with its popular cheese advent calendar to suppress your dairy cravings throughout December, including Double Gloucester, Mexicana, Applewood, Jarlsberg and more varieties.

The calendar has even got it's own hashtag – #CheeseNotChoc – where fellow cheese enthusiasts come together to express their mutual hatred of chocolate, and adoration of cheese.

Pringles 12 Days Advent Calendar 12

Pringles 12 Days Advent Calendar.

Picture: B&M

B&M are leading the way with their selection of quirky advent calendars this year, and this Christmas they're bringing back their Pringles advent calendar for another festive period following its sell-out success in 2018.

There's 12 doors hiding Pringles goodness, including 12 mini pots of original ready salted, Texas BBQ and sour cream and chive flavoured crisps.

Gin Advent Tipsy Tree

Gin Advent Tipsy Tree.

Picture: First 4 Hampers

If you're a gin drinker then this might be the calendar for you, with 24 miniature bottles of the spirit, including classic styles, London gins, dry gins, Old Toms and even Christmas flavoured gin.

Unfortunately this advent calendar isn't hiding its festive treats behind doors – but we'll let it slide given it comes in a 'Gin Tiny Tipsy Tree'.

LEGO Harry Potter Advent Calendar

LEGO Harry Potter advent calendar.

Picture: LEGO

This LEGO advent calendar is perfect for any self-confessed 'Potterheads'. Behind 24 doors awaits different Harry Potter themed toys, which all come together to create a festive Hogwarts scene.

You can expect to find Harry, Ron and Hermione behind a door, along with other key characters and items from the iconic series. If Harry Potter isn't your thing, LEGO also have a Star Wars Christmas set, which is complete with micro-figures of all your fave characters.

Tiffany & Co. Advent Calendar

Tiffany & Co. calendar.

Picture: Tiffany & Co.

If you've got a spare £104,000 lying around, why not consider opting for possibly the most luxurious advent calendar to ever exist?

Tiffany & Co. have released their advent calendar – a four foot festive countdown designed to look like one their of stores. Behind the illustrated blue doors you'll find a variety of their signature jewels, including diamonds, a watch, and plenty more.

Getting your hands on this calendar may prove a little tricky, however, as there will be just one advent calendar in the UK which will be be stocked exclusively in Harrods.

£104,000 – Tiffany & Co.