11 of the best Christmas love songs of all time
30 November 2018, 16:03 | Updated: 15 October 2020, 20:30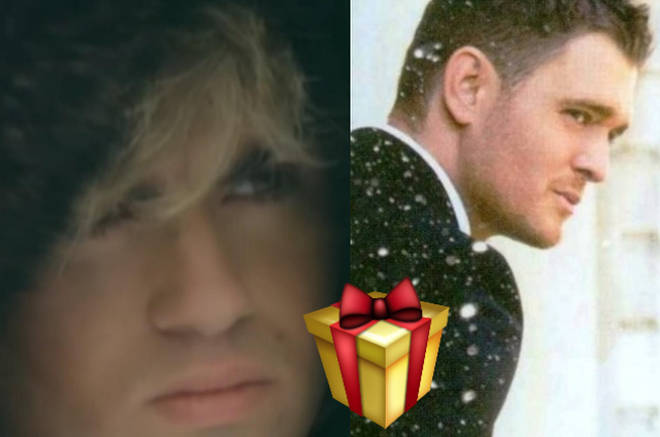 If Love Actually has taught us anything, is that Christmas is a perfect time for falling in love.
While we always love the likes of Wizzard, Slade and co every December, we also can't help but enjoy the more romantic side of Christmas tunes.
Here are some of the greatest Christmas love songs of all time for an ideal romantic playlist:
Carpenters - 'Merry Christmas Darling'

This was the Carpenters' first attempt at Christmas music. The lyrics were written in 1946 by Frank Pooler, who was the choir director at California State University, where Karen and Richard Carpenter were both part of the choir.

In 1966, at Pooler's request, Richard composed the music for this ballad, which was first released in 1970. This sparked the interest of a Christmas album by the Carpenters, and in 1978, Christmas Portrait was released.

Eagles - 'Please Come Home for Christmas'

Originally by Charles Brown and later by Jon Bon Jovi, this is an underrated moment from the Eagles' back catalogue.

It's a great Christmas tune about longing for a past love, and bonus fact: it was the first Eagles song to feature Timothy B. Schmit on bass!

Wham! - 'Last Christmas'

Such a classic tune about about getting your heart broken between two Christmasses. How could they treat George like that, eh? And we'll always love that ski-themed music video.

One of the most popular Christmas pop songs of all time, this track had to settle for the Christmas number two spot in 1984, as it was also the year Band Aid released 'Do They Know It's Christmas' (which George also featured on).

Michael Bublé and Idina Menzel - 'Baby, It's Cold Outside'

OK, the host in this song is a tad pushy, but we'd like to think they mean well...

So many artists have recorded this duet classic, from Dean Martin to Tom Jones, but we love this super smooth version by Michael and Idina.

Eartha Kitt - 'Santa Baby'

If you're looking for something naughty in your Christmas stocking, look no further than this...

Eartha Kitt's cheeky and seductive demands for expensive treats from Santa is always a joy.

Lady Antebellum - 'All I Want for Christmas is You'

Mariah Carey's 1994 Christmas classic is without doubt one of the greatest festive songs of all time.

But if you're looking for something a little more romantic, then country band Lady Antebellum's stripped back cover is truly beautiful.

Michael Bublé - 'I'll Be Home for Christmas'

Bing Crosby first recorded this ballad in 1943, it was originally written to honour soldiers overseas who longed to be home at Christmas time during the war.

Many artists have covered it over the years, but Michael's cover is soothing and stunning.

Rosemary Clooney - 'I Wish You Love'

Rosemary Clooney recorded a collection of smoky jazz standards in 1993, including this song, co-written by Charles Trenet.

Not strictly a Christmas song, but it's all about feelings towards a relationship that cannot be and moving on around the period.

Sara Bareilles and Ingrid Michaelson - 'Winter Song'

Singer-songwriters Sara Bareilles and Ingrid Michaelson teamed up for this one-off seasonal love song for a Hotel Café compilation.

It failed to chart in the US or Canada, but it reached number two in Ireland in 2011, following a charity campaign, while a cover version by a choir under the name of Twitterxmassingle also reached the top ten.

Gordon Lightfoot - 'Song for a Winter's Night'

Gordon Lightfoot first released this ballad in 1967. He said of the song: "Believe it or not, it was written in Cleveland during a midsummer thunderstorm.

"I was in an apartment that had been lent to me for the week while I was playing at a place called La Cave. Pouring rain, the middle of the summer, Cleveland, and I wrote this. Go figure."

David Essex - 'A Winter's Tale'

Songwriting giants Mike Batt and Tim Rice wrote this ballad after David Essex asked them specifically.

The song was a comeback of sorts for Essex, giving him a number three hit in 1983.