Here's Why Cadbury's Roses Look So Different This Year
28 December 2016, 15:07 | Updated: 2 November 2017, 15:29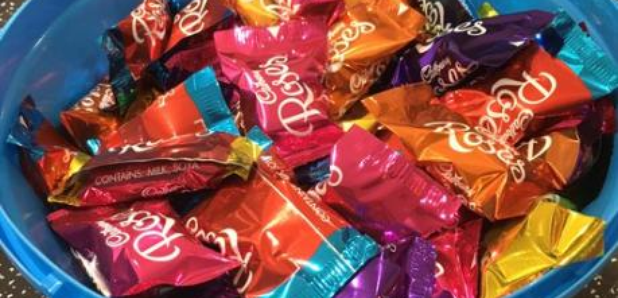 The packaging for everyone's favourite Christmas chocolates has changed and people are freaking out.
There are some traditions that we rely on to really make Christmas, and a tub of Cadbury's Roses is one of them.
So imagine people's horror when they tucked into their stock on Christmas Day and they didn't get what they expected.
Instead of the twist tie wrappers that are so familiar to us, people were greeted by something else, and they weren't happy.
@CadburyUK what have you done to the roses? I've clearly missed the 'change' memo. Me and .@AdsyRaoul are a tad upset. #cadburyroses #change pic.twitter.com/GmTvfeqq4V

— Ellen Messias (@EllDiva) December 15, 2016
Apparently this change took place in April, but it's taken the festive period for customers to notice the difference.
One chocolate-lover even compared the packaging to fortune cookies...
At Christmas we like traditions. These fortune cookie looking #cadburyroses are going to take some getting used to pic.twitter.com/JY2IA4ugnw

— Rob Graham (@g2rma) December 1, 2016
The folks at Cadbury's have spent their Christmas holidays defending their decision to make the change.
@Firstplacelast Hi, we wanted to prevent chocolates slipping out their wrappers on occasion – and also to keep them fresher.

— Cadbury UK (@CadburyUK) December 26, 2016
And a company spokesperson confirmed this information to The Guardian recently: "While the weight of the individual units have adapted to accommodate the new shape and wrapper, there is no change to the overall weight in both tubs and cartons of Cadbury Roses."
Thank goodness for that, we can all sleep easy again!
Pic: Twitter.com/firstplacelast