10 simple tips to make sure Christmas dinner runs smoothly
22 November 2018, 13:57 | Updated: 22 November 2018, 13:58

Promoted by Crisp 'n Dry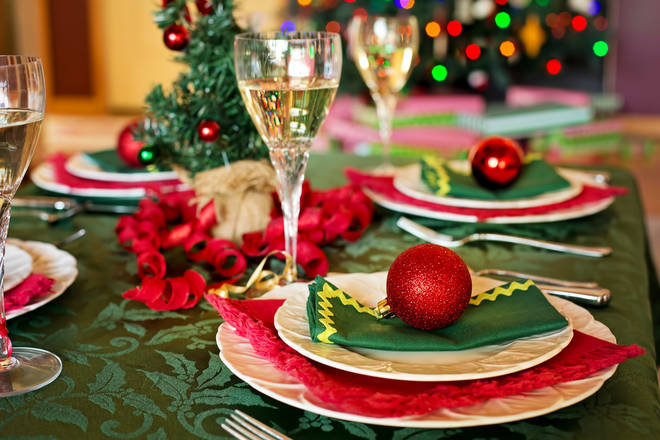 Roast dinners are the king of dinners, and Christmas dinner is the king of roast dinners.
It's the biggest meal of the year, when all the family and friends gather together for an almighty spread of meat, veg, and all the gravy.
But we all know how stressful it can be if certain things don't go to plan. So, here are a few tips to help make sure Christmas dinner runs as smoothly as possible.
Get everything else done by Christmas Eve

It might sound obvious, but make sure all your other Christmas jobs that can be done before the big day are actually done.

You don't want to be worrying about wrapping presents and the like on top of prepping Christmas dinner.

Set up your dining area way in advance

Picture: Pexels

Either the night before or first thing in the morning, get all your cutlery and dining table paraphernalia together and place it outside of the kitchen.

This way, you won't be rushing to get the table ready at the last minute.

If you can't set up your dining table until the last minute, place all the items including napkins and condiments on a nearby surface so it won't take long to set up.

Keep the sides nice and simple

Sometimes, less is more.

You don't need to have eight side dishes or three types of potatoes.

Just stick to the classics and favourites among your guests.

Know your turkeys

Picture: Pexels

It all depends if you're going for frozen or fresh turkey. Frozen turkeys are cheaper, and they can be bought up to six months in advance.

Any longer and they will probably lose flavour.

If you're going for fresh, it needs to be purchased as late as possible, which usually means booking it with your local supermarket or butchers, so that you can pick it up in the days leading up to December 25.

Ideally, it needs to be cooked within two days of buying. This obviously comes with risks, so don't leave it to the last minute! However, you won't have to worry about the whole thawing process.

Keep drinks and glasses out of the kitchen

This is another way of tidying up the kitchen and having one less thing to worry about.

Give someone the job of serving drinks or allow everyone to help themselves, and perhaps even set up a kind of mini bar with an ice bucket in another room.

Hire some helpers

Yes, it can be annoying when people keep getting in your way, but if people ask if they can help, allow them to.

Christmas lunch is a huge challenge, and it can be far more fun with help from others.

Chuck on some festive tunes and get in the Christmas spirit with your new kitchen staff.

Do the vegetables while the turkey rests

Picture: Getty

Rather than juggling all sorts of baking trays and pans and not having room in the oven, just cook the bird nice and early.

Then, you can rest it for a couple of hours while you do the rest. You can turn up the oven for the potatoes without worrying about overcooking the turkey.

Prepare the vegetables on Christmas Eve

This might sound like Christmas Eve is ruined, but you'll be thankful that you did it.

Once you've peeled your veg, don't let them get soggy. Wrap them in damp kitchen roll and leave somewhere cool overnight (perhaps a garage).

For potatoes, parboil, and shake in a colander while draining to rough them up, then cool before storing overnight in a sealed bag in the fridge.

Then, chuck them into hot fat to roast and they'll be nice and crisp.

Cook more than you need

By cooking loads of vegetables or pigs in blankets etc, you can then guarantee yoruself extra food for Boxing Day.

How about turning leftovers into bubble and squeak, and it's all perfect for sandwiches.
The unsung hero of delicious Christmas cooking, Crisp 'n Dry, want you to have a 'Dry Run' of your Christmas dinner this year. Get practising those perfect roast potatoes and all those other elements of the perfect Christmas feast ahead of the big day!
Right now, we're also giving you the chance to win an amazing prize with Crisp 'n Dry. Click here to enter.