All the 2017 Christmas adverts so far: John Lewis, M&S and more
13 November 2017, 11:22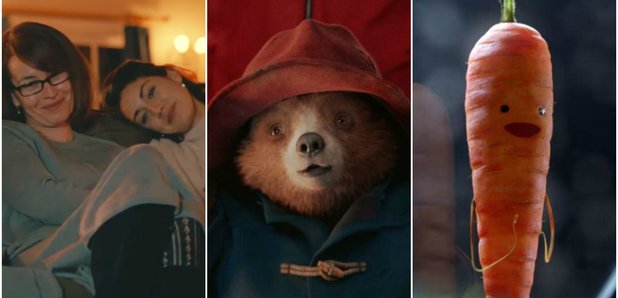 It's suddenly that time of year once again. It's far too early to put up decorations, but it's the exact time for Christmas TV adverts to start rolling out.
The annual tradition of TV adverts has already begun, but what are they all like? Here they all are in one place!
1. Marks & Spencer
Coming out just in time for Paddington's film sequel, the loveable bear helps 'Santa' deliver presents to all his neighbours. Aww. Just forget that it's clearly just an advert for a movie.
2. John Lewis
Perhaps not as Christmassy as past years, but this year's ad features Moz the Monster as a cute kid's imaginary friend keeping him up all night, along with Elbow covering The Beatles.
3. Argos
Here, an elf races through a factory to catch up with a super fast sleigh which will be delivering presents to children around the world, after a pesky toy robot dog is missed out of sack. All to show how Argos can deliver in under four hours.
4. Asda
In this ad, a young girl and her grandfather stumbleupon Asda's Christmas factory and sneak into the imaginarium. Naughty. They discover find mini Asda employees putting together festive treats and the like.
5. Lidl
The German supermarket has released three adverts this year, each as a tribute to certain types of people at Christmas. There's the 'Cavalier Carver', the 'Mince Pie Maverick' and the 'Double Dipper', someone that has dodgy dining skills at Christmas parties. Which one you?
6. Tesco
The supermarket chain has also released several instalments this year, and it also focuses on the iconic Christmas turkey. It celebrates the diverse ways people celebrate the season, with various families squabbling over the turkey. Would you use a BBQ on Christmas Day?
7. Toys R Us
Here, Santa visits his local Toys R Us store, only for his reindeer to get distracted by all the pressies on show. But don't worry, Geoffrey the Giraffe is around to fix everything. Because what doesn't say Christmas more than a festive giraffe?
8. Sky Cinema
This heartwarming ad follows a mother and her daughter as they watch The Sound of Music every Christmas over the years. We're not crying...
9. Aldi
If you thought Christmas giraffes were weird, then what about Christmas carrots? Jim Broadbent narrates the ad in which we continue Kevin's journey after last year's promo. Has he found love?
10. Debenhams
The department store landed Ewan McGregor to play the narrator-turned-fairy godfather in this advert. He tells the Cinderella story of a young man and woman who are brought together by fate after she loses her shoe on a packed train.
11. Sainsbury's
The supermarket chain have plumped for a sing-along to the catchy 'Every Bit of Christmas', with cameos from everyone from Ricky Tomlinson and Kermit the Frog. Plus, it was directed by French duo We Are From LA, the guys behind the video for Pharrell Williams's 'Happy'.
12. Boots
Boots' 2017 advert sees a trip down memory lane of 50 years of Christmases and products, and it's all rather emotional.