Paloma Faith, The Kingdom Choir and cast of Matilda the Musical switch on Covent Garden Christmas lights
14 November 2018, 15:48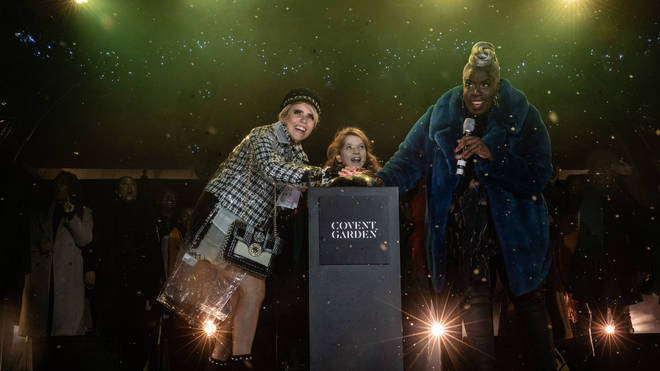 Christmas was in full swing last night at the Covent Garden light switch-on. Celebs Paloma Faith, The Kingdom Choir, who sang at Harry and Meghan's wedding, and the cast of Matilda performed at the snowy event.
Although it's not quite December, a bit of fake snow works wonders when getting into the Christmas spirit!
The Christmas lights were turned on in Covent Garden last night, in a ceremony that included special guest performers.
Singer Paloma Faith made an appearance alongside The Kingdom Choir, who wowed the world at Prince Harry and Meghan Markle's wedding, and the West End cast of RSC's Matilda the musical.
The Kingdom Choir got into the Christmas spirit

Picture: TMG

The crowd gathered to see the performances and revealing of the lights

Picture: TMG

Paloma Faith took the mic at Covent Garden's light switch-on

Covent Garden Christmas lights.

Picture: TMG

The talented child cast of Matilda gave a performance

Picture: TMG

The Kingdom Choir swapped their Royal Wedding glad rags for woolly coats and scarves

Picture: TMG

Some incredible soloists performed in The Kingdom Choir

Picture: TMG

The crowd clapped and sang along under a flurry of snow

Picture: TMG

The stars of the show pressed the golden buzzer to turn on the Christmas lights

From left to right: Singer Paloma Faith, an actress from Matilda the Musical, Karen Gibson from The Kingdom Choir.

Picture: TMG

The lights on the Christmas tree were switched on at the event

Picture: TMG