Kevin the Carrot's new Christmas advert is a hilarious Coca-Cola rip-off
8 November 2018, 10:22 | Updated: 14 November 2018, 11:54
Holidays are coming, holidays are... oh wait.
Aldi's plucky little carrot is back for a brand new Christmas advert for 2018!
Some might say that Christmas hasn't truly begun until you've seen the iconic Coca-Cola festive advert, with its travelling red truck and the 'holidays are coming' jingle.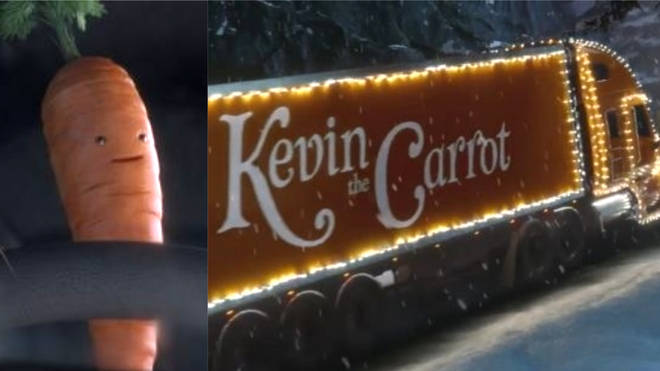 Many of us thought we were seeing that ad for the first time this weekend, only to be met with a familiar orange vegetable.
Aldi's Kevin the Carrot character returned for a third time, showing him driving an orange truck lit up in fairy lights, with the music proudly blaring: "Kevin is coming", before he finds himself in a tricky Italian Job-style predicament on the edge of a cliff.
Hang on Kev, we've got an idea...
Aldi later responded to comments about its similarity to the famous Coca-Cola ads, tweeting: "Our parody Christmas advertising campaigns are famous for capturing the anticipation of the season.
"This year is no exception using our trademark sense of humour and well-loved character, #KevinTheCarrot to capture the magic of families prepping for Christmas."
Meanwhile, a second advert shows Kevin go up against the 'evil' Pascal the Parsnip, complete with a voiceover from Jim Broadbent:
There have also been Christmas adverts for Heathrow (the return of the bears), and Boots (showcasing the special bond between mothers and daughters) among others.
John Lewis, Sainsbury's and Marks & Spencer are expected to launch their festive adverts in the coming week.