The Eagles Play Amazing Acoustic Version Of Hotel California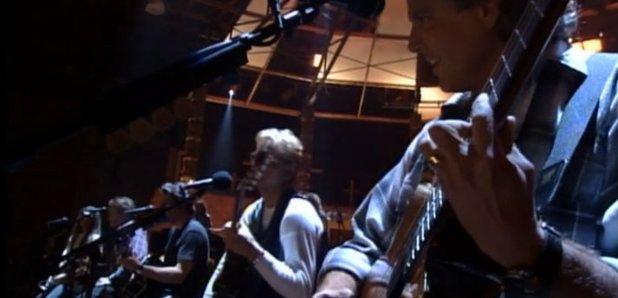 The video from the band's historic 1994 reunion tour shows they could still wow audiences after 14 years apart.
Filmed for the Hell Freezes Over album in April 1994, the band - together again - perform a spine-tingling version of their classic song 'Hotel California'.
The Eagles reunion is one of the most famous in rock history for more than one reason.
The band were hugely successful in the 1970s but broke up in 1980 after the band's two remaining founding members, Don Henley and Glenn Frey, stopped working together and threatened to beat each other up during live shows!
The relationship was so damaged that when Don Henley was asked whether the band would ever play together again he suggested they might "when hell freezes over".
But it seems time heals all wounds and by 1994 Henley and Frey had patched things up and returned to performing together for a recorded special. Taking to the stage in California for the first time since 1980, Glenn Frey told the audience "We never broke up, we just took a 14-year vacation."
The reunion show was for a live album featuring new songs - which naturally they called 'Hell Freezes Over' - and a tour which was one of the most lucrative in music history.
The band continued to play together until the Glenn Frey sadly died in January this year. Following one last tribute show at the Grammys in February, Don Henley said "I don't think you'll see us performing again."
At least we'll always incredible performances like this.