9 of Nile Rodgers' best songs, from David Bowie to George Michael
3 October 2018, 14:53 | Updated: 10 December 2018, 11:41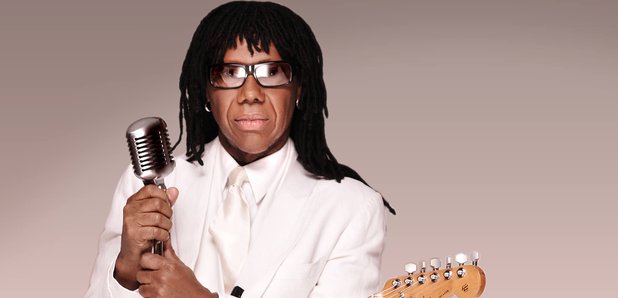 Nile Rodgers is a true music icon. Not only is he a member of Chic, but he was produced so many pop classics over the years.
He has collaborated with countless artists over the years, and we've selected some of his finest moments in the studio...
1. Chic - 'Le Freak' (1978)
Produced with Bernard Edwards, this song is truly one of the best disco anthems ever made. The song reached number 1 in the states and was a top 10 hit in the UK.
2. Sister Sledge - 'We Are Family' (1979)
This was the first time Nile and Bernard Edwards wrote a song for another artist outside of their band Chic. It was perfect for Sister Sledge, and it became another disco staple.
3. Chic - 'Good Times' (1979)
Perhaps an even bigger success for Chic than 'Le Freak', this track went on to become one of the most sampled song in pop history, including on The Sugarhill Gang's 'Rapper's Delight' later in the same year.
4. Diana Ross - 'Upside Down' (1980)
Rodgers and Edwards teamed up for Motown legend Diana Ross's lead single from her Diana album. It was a huge success around the world, topping the US chart. Rodgers later said: "Diana Ross was the first big star we ever worked with and we took it very seriously.
"This was the first time in her life somebody cared about who she was; what she was — everyone previously had treated her the way we had treated Sister Sledge — they got her in and said 'Sing this'. We (took a more personal approach)."
5. David Bowie - 'Let's Dance' (1983)
Bowie scored one of the biggest hits of his whole career thanks to his Nile Rodgers-produced pop anthem. Rodgers later said that Bowie came into his apartment one day, showed him a photograph of Little Richard in a red suit getting into a bright red Cadillac, and said: "Nile, darling, that's what I want my album to sound like."
6. Madonna - 'Like a Virgin' (1984)
Nile Rodgers produced this iconic song by himself, but he wasn't totally sure about it at first. It was only after he found himself humming along to it that he relented. "I handed my apology to Madonna and said, 'you know... if it's so catchy that it stayed in my head for four days, it must be something. So let's do it."
7. Duran Duran - 'The Reflex' (1984)
Rodgers didn't produce the original version of this track, but his remixed 7-inch and 12-inch singles would become the version we all know and love. He later worked with the band on their Notorious album.
8. Daft Punk - 'Get Lucky' (2013)
French duo Daft Punk teamed up with their hero for this huge single in 2013. It reached the top ten in over 32 countries, and has sold more than 9.3 million copies worldwide. Impressive stuff.
9. George Michael - 'Fantasy' (2017)
George and Nile were working together on new material before the Wham! singer's death in 2016. The following year, a reworking of B-side 'Fantasy' produced by and featuring Rodgers was released.