12 Top Songs From The Movies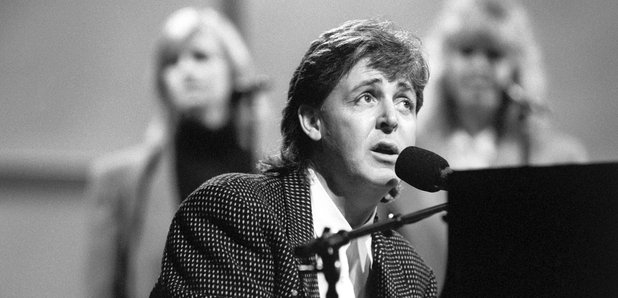 Ahead of 87th Academy Awards on Sunday, we've chosen 12 of our favourite songs from the world of movies. Does your favourite feature?
12. Frankie Valli - Grease (Grease, 1978)
It's got you, it's got me, it's got everything a great movie song needs. Written by Barrie Gibb of the Bee-Gees, this was just one of the incredible songs off one of the all-time great movie soundtracks.
11. Bruce Springsteen - Streets of Philadelphia (Philadelphia, 1993)
What. A. Song. The theme to a film that if you don't cry, you haven't got tear ducts. This song was, quite rightly, a massive hit and went on to win an Academy Award for Best Original Song and four Grammy Awards, including Song of the Year. All hail The Boss!
10. Ray Charles - Shake A Tail Feather (The Blues Brothers, 1980)
This dance routine puts 'twerking' to shame, doesn't it?
9. Ray Parker Jr. - 'Ghostbusters' (Ghostbusters, 1984)
This video must be filed under 'so bad it's brilliant'. The highlight? Parker Jr. delivering the 'busting makes me feel good' line; by the look on his face, it makes him feel REALLY good.
8. Audrey Hepburn - 'Moon River' (Breakfast at Tiffany's, 1961)
Written by Henry Mancini & Johnny Mercer, this song received an Academy Award for Best Original Song for its first performance by Audrey Hepburn in the 1961 movie Breakfast at Tiffany's. It has since been covered by many other artists including Andy Williams, Aretha Franklin and Jerry Butler.
7. Simple Minds - 'Don't You (Forget About Me)' - (The Breakfast Club, 1985)
Despite the success is brought them, Simple Minds dismissed this song for a long time, choosing not to include it in their 1985 album, Once Upon A Time.
The track only reached number seven in the UK singles chart, but it stayed in the charts for two years, until 1987, proving that even if a band hates their song, it won't stop the great British public for embracing it instead.
6. B. J Thomas - 'Raindrops Keep Fallin' on my Head' (Butch Cassidy and the Sundance Kid, 1969)
Written by Burt Bacharach and Hal David, this was another winner of a Best Original Song Academy Award. And here's one for fact fans; in the film version of the song, B. J. Thomas had been recovering from laryngitis, which made his voice sound hoarser than in the 7-inch release. So there you go.
5. The Bee Gees - 'Stayin' Alive' (Saturday Night Fever, 1977)
A disco classic for all the ages, this was one of the Bee Gees' five UK number one singles. It continues to find itself in numerous 'greatest songs of all time' lists and allows wedding reception guests across the world to pull shapes on the dance floor.
4. Isaac Hayes - 'Theme From Shaft' (Shaft, 1971)
Everybody wants their own theme song, don't they? Especially if it means you can stop traffic. In fact, we might claim this one as our own…
3. Paul McCartney and Wings - 'Live and Let Die' (Live and Let Die, 1973)
Written by Paul and Linda McCartney, this song has been covered by several bands. It was the first James Bond theme song to be nominated for an Academy Award for Best Original Song, but lost to the theme song from The Way We Were (below).
2. Barbra Streisand - The Way We Were (The Way We Were, 1973)
The song won the Academy Award and Golden Globe Award for Best Original Song. Gladys Knight did a superb version of this song in 1974, which you'll probably have heard on Smooth!
1. Simon and Garfunkel - 'Mrs. Robinson' (The Graduate, 1967)
This was a great boost for Simon and Garfunkel and on the strength of the hit single, the soundtrack album rose to the top of the charts in 1968.