The 8 Best Carole King Songs Ever
30 January 2015, 16:28 | Updated: 2 November 2017, 15:29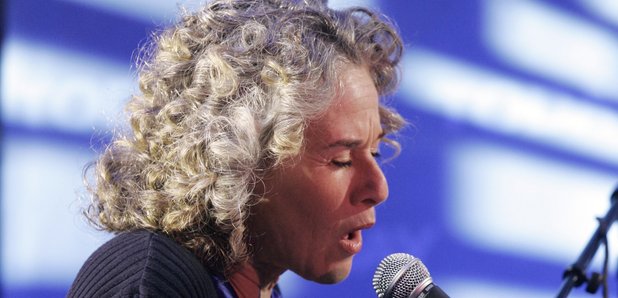 Carole King is an incredible songwriter. We've picked our favourite songs and put them into a handy list.
Carole King is possibly one of the most underrated songwriters of all-time. To celebrate both her talent and the arrival of 'Beautiful - The Carole King Musical' to London, we have picked our favourite Carole King songs. This list proves just have incredible a songwriter King really is - did you know that she has written 61 hits on the UK charts alone?!
The Loco-Motion - Little Eva

The original recording of the song was sung by Eva Boyd, under the stage name Little Eva. Boyd was actually Carole King's babysitter, having been introduced to King and husband Gerry Goffin by The Cookies, a local girl group who would also record for the songwriters. This original version reached number 2 on the UK chart in 1962 and it re-entered the chart ten years later, reaching number 11.
Up On The Roof - The Drifters

Written by Gerry Goffin and Carole King, 'Up On The Roof' was recorded in 1962 by The Drifters. It reached number five in America and frequents plenty of 'best songs' lists.
I'm Into Something Good - Herman's Hermits

Composed by Gerry Goffin and Carole King, 'I'm Into Something Good' was made famous by Herman's Hermits in 1964. It was the group's debut single and reached number one in the UK Singles Chart.
Goin' Back - Dusty Springfield
Dusty Springfield's version of 'Goin' Back' is probably the best-known – however, Goldie (of Goldie & The Gingerbreads) was the first artist to record the song, but her version was withdrawn following disagreements with Goffin and King over the song's lyrics. King decided to record 'Goin' Back' herself but ultimately she offered it to Springfield instead. She went on to have an international hit with the song.
You've Got A Friend

'You've Got a Friend' was recorded in 1971 by Carole King. She featured it on her popular album Tapestry, but James Taylor's version is better known, reaching number one on the Billboard Hot 100 and number four on the UK Singles Chart in 1971.
Will You Love Me Tomorrow

The Shirelles released the best-known version of 'Will You Love Me Tomorrow' in 1960. Other artists, including Ben E.King and Dusty Springfield, have covered the track since.
(You Make Me Feel Like) A Natural Woman

One of King's most well-known songs, '(You Make Me Feel Like) A Natural Woman' was released in 1967 by soul-singing great, Aretha Franklin. The song was a big hit for her, reaching number eight on the Billboard Hot 100.
One Fine Day

'One Fine Day' was intended for Little Eva, who had a hit with Goffin and King's song 'Locomotion'. Her voice did not sound right when they recorded it, so it went to The Chiffons. Carole King finally released her 'official' version two decades later; it reached number 12 in America.
Let us not forget that King sounds pretty impressive too - so check out her version of (You Make Me Feel Like) A Natural Woman:
What is your favourite Carole King song? Let us know in the comment box below.