The 10 Best Buddy Holly Songs
12 March 2015, 16:54 | Updated: 2 November 2017, 15:29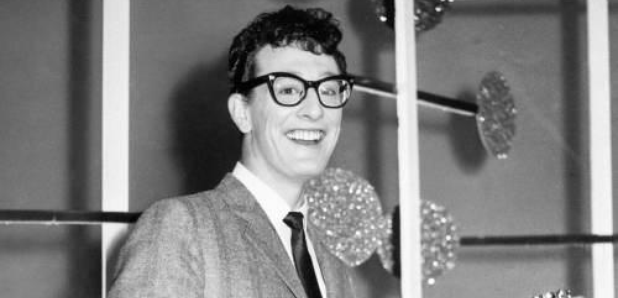 Buddy Holly was an incredible pioneer of rock and roll and was taken much too early after a plane crash at 22. We pick ten of his best songs.
1. That'll Be The Day (1957)
This went to number two on Billboard's R&B singles chart and peaked at number in the UK in November 1957.
2. Peggy Sue (1957)
Holly wrote this about Peggy Sue Gerron, who was dating Holly's drummer with The Crickets, Jerry Allison. Allison and Peggy Sue eventually married, but divorced 11 years later.
3. Oh, Boy! (1957)
The song was originally recorded by Sonny West in the late 1950s but failed to achieve any commercial success. It was later recorded by Buddy Holly and the Crickets. It peaked at number 10 in the US and number three in the UK in 1958.
4. Maybe Baby (1958)
Released by The Crickets, this was a top 40 hit in the US, the UK, and Canada.
5. Rave On (1958)
Rave On was written by Sonny West, Bill Tilghman and Norman Petty. Petty wanted to give it to another act, but Holly protested and persuaded the songwriters to let him record it.
6. Think It Over (1958)
Think It Over reached number 27 on the Billboard chart and number 11 in the UK.
7. It Doesn't Matter Anymore (1959)
Written by Paul Anka, this was recorded by Buddy Holly in 1958. It reached number 13 as a posthumous hit on the Billboard Hot 100 charts in early 1959 shortly after Holly was killed in a plane crash. It reached number one in the UK in April of that year.
8. Brown Eyed Handsome Man (1963)
Written and originally released by Chuck Berry, Buddy Holly's recording a a posthumous top-five hit in the UK in 1963 and was released on 'Reminiscing'.
9. Bo Diddley (1963)
Buddy Holly recorded his version of this song in 1956, but it was not released until it appeared on the album Reminiscing in 1963.
10. True Love Ways (1960)
Co-written by Buddy Holly and Norman Petty 'True Love Ways' was recorded four months before the singer's death. It was first released on the posthumous 'The Buddy Holly Story, Vol. 2' and the song reached number 25 in the UK in 1960.