7 of the best UB40 songs ever, from 'Red Red Wine' to 'Kingston Town'
12 January 2018, 15:45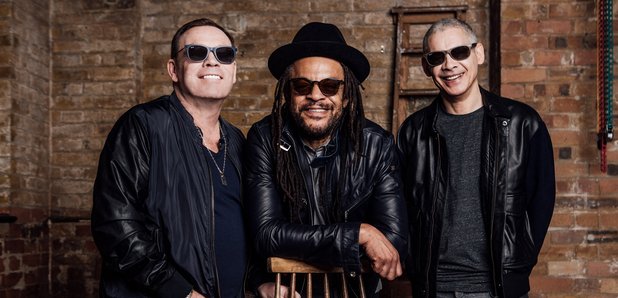 UB40 are one of the most popular reggae groups of all time, and scored many hits from the late 1970s to the early 1990s.
The diverse group - who have had members of English, Irish, Jamaican, Scottish and Yemeni parentage - have sold over 70 million records worldwide, and remain a popular force to this day.
Named after a signing-on document issued to people claiming unemployment benefit from the UK government when they formed, the group went on to score massive hits around the world with their unique brand of reggae-pop.
OK, they may have split off into two separate groups featuring the UB40 name in recent years - with Ali Campbell, Astro and Micky Vurtue splintering into a new version, but we still love listening to all their classic hits. Here, we've picked their absolute greatest:
1. 'Food for Thought'
UB40's first single, this reggae track reached the UK top five in 1980, and it's still regularly heard at Birmingham City FC matches today.
Robin Campbell later said that the lyrics of the song relate to "the hypocrisy of Christmas, the fact that there are starving people in Africa and here we are all sat around eating our Christmas dinner and praising the Lord".
2. 'Red Red Wine'
You might not have realised it, but Neil Diamond first recorded this song back in 1967. But it's UB40's cover that became the most well known in 1983.
The song truly brought the band to the mainstream, and reached number one in the UK. It ended up topping the US charts too in 1988, after being performed at Nelson Mandela's birthday tribute concert.
3. 'Please Don't Make Me Cry'
This track was the follow-up to their massive hit 'Red Red Wine' and also featured on their huge album Labour of Love.
It gave them another top 10 hit, peaking at 10 in 1983. It was written by reggae artist Winston Groovy, aka one of the best names in showbusiness.
4. 'I Got You Babe' (with Chrissie Hynde)
Already an iconic duet by Sonny and Cher back in 1965, it got a new lease of life 20 years later when UB40 decided to cover it for their Baggariddim album.
Collaborating with Pretenders singer Chrissie Hynde, it was a huge hit and topped the UK chart in 1985.
5. 'Kingston Town'
Originally a 1970 song by Lord Creator, it became a classic when covered by UB40 in 1990 on their Labour of Love II album.
The song gave another UB40 another top 5 hit, and was a particularly massive success in France.
6. 'Can't Help Falling in Love'
Elvis Presley first recorded this song in 1961, and it is based on 'Plaisir d'amour' by Jean-Paul-Égide Martini. UB40 arguably had the biggest version three decades later.
They actually recorded it after being asked to make an Elvis tune of their choice for the film Honeymoon In Vegas. However, Bruno Hernandez's version was selected instead. They weren't sure about including a cover on their album, but Robin Campbell said: "I persuaded them that it would be pointless not to, as it was likely to be a smash hit."
7. 'Baby Come Back' (with Pato Banton)
OK, this isn't officially a UB40 track, but it featured vocals from both Ali and Robin Campbell and sounds so much like a UB40 track that we're including it.
Reggae star Pato Banton scored a huge number one in 1994 with this cover of The Equals classic, and it was the Campbells' presence that made it a summer anthem.