Whitney Houston Singing To Muhammad Ali On His 50th Birthday Is Amazing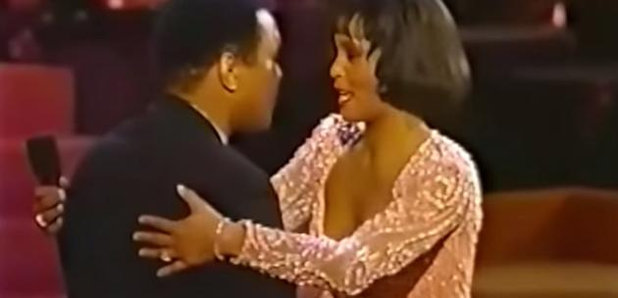 "If I fail, if I succeed, at least I'll live as I believe".
'Greatest Love of All' is one of Whitney's most successful songs with a powerful message – your relationship with yourself is the most important of all.
It's the theme song to the 1977 Muhammad Ali biopic, 'The Greatest', originally recorded and released by George Benson and then subsequently re-released by Whitney in 1986.
Lyricist Linda Creed wrote the words in the midst of her struggle with breast cancer and the lyrics really reflect the strength of character that Ali had.
"I decided long ago, never to walk in anyone's shadows. If I fail, if I succeed, at least I'll live as I believe," the chorus sings, which echoes of one of Ali's greatest quotes – "I know where I'm going and I know the truth, and I don't have to be what you want me to be. I'm free to be what I want."
Whitney Houston sang the famous song to him in 1992 at his 50th birthday celebrations and it's without a doubt, one of her best live performances.
Watch it now: