Iconic British meals and snacks have been ranked, and the results are likely to annoy you
12 June 2019, 15:08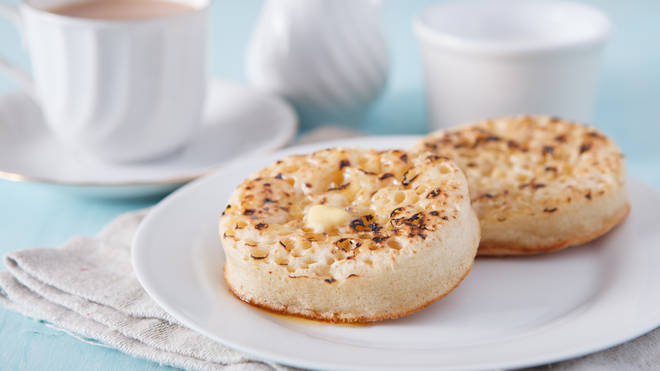 YouGov has unveiled its latest poll about what we Brits think about famous cuisines.
The national pollster ranked sweet and savoury foods from 'God tier' to 'crap tier', asking Brits to rank 50 classic meals such as fish and chips, crumpets, haggis, cakes, and pies.
The results found that the highest ranked savoury items were Yorkshire puddings, Sunday roasts, fish and chips, crumpets, a full English breakfast, and a bacon sandwich. Naturally.
In the second tier were bangers and mash, cottage pie, and shepherd's pie.
The chart also showed that Yorkshire puddings – whether eaten for Christmas dinner or part of a Sunday roast – topped the savoury list, with 85% of Britons loving the snack.
Mid-level favourites include toad in the hole, cauliflower cheese, Cornish pasty, pie and mash, Ploughman's lunch, Welsh rabbit, and, while not exactly British, a chicken tikka masala.
Not so popular proved to be bubble and squeak, beef wellington, scotch eggs, Lancashire hotpot, pork pies, and steak and kidney pie.
Right at the bottom of the pile was jellied eels, with just 6% of those asked saying they enjoyed them. Other 'crap tier' meals included black pudding, liver and onion, and Scottish classic, haggis.
On the sweet end of the chart, British favourites were apparently Victoria sponge and scones. Hot cross buns, sticky toffee pudding, Bakewell tart, and Eaton mess came second.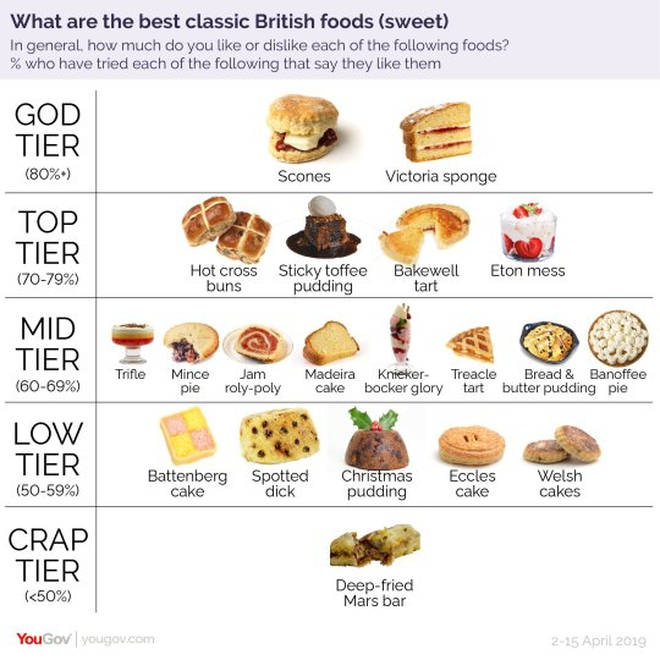 Deep-fried Mars bars were right at the bottom, with only 22% of those who have eaten the battered choccy saying they enjoyed it.
YouGov also revealed reported that there were generational and gender differences in both charts. For savoury foods, men preferred the lower tiered foods such as steak and kidney pie and black pudding.
Male and female opinions are less divided on desserts, with the biggest difference being that 75% of men preferred Eton mess compared to 64% of women.
Young people aged 18-24 apparently have less tolerance for the likes of liver and onion, with just 15% of them liking it compared to 58% of older British folk.
Youths also enjoyed the deep fried Mars bars (47%), compared to older people (7%)