Creme Egg Heinz Mayonnaise has launched - yes, really
12 April 2019, 11:35 | Updated: 12 April 2019, 12:08
Heinz have teamed up with Cadbury to bring us Creme Egg Heinz Mayonnaise - yes, you read that right.
The bizarre mash-up from two very British culinary brands was so surprising we originally thought it was a prank - leading us to even add it to our favourite April Fool's pranks of 2019. D'oh!
While every household across the UK has a jar of mayonnaise tucked way, it's unlikely that the new collaboration will be as popular - but it will no doubt be an unusual talking point over breakfast.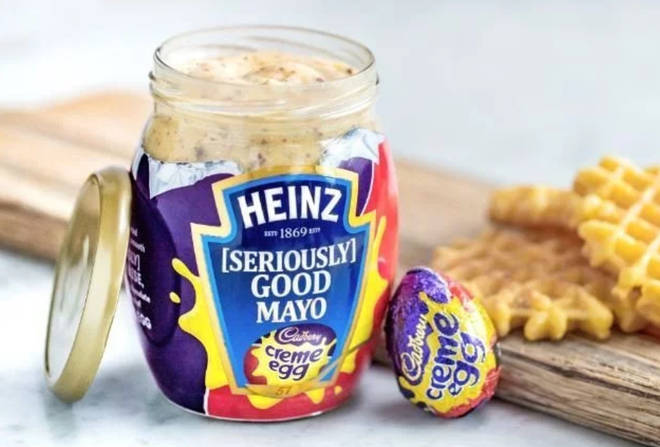 Suggestions from Cadbury that it should be tried with crumpets or waffles leads us to believe that the sweet mixture is more akin to chocolate spread than soured egg whites.
We weren't kidding, Heinz Creme Egg Mayo is a thing! Who wants to try it?🙌 OF COURSE YOU DO! Come and see us at Ely's Yard, Truman Brewery in London from 11th-13th April for free samples of this crazy combo. Only until stocks last! pic.twitter.com/3ZVehv0LJb

— Heinz Mayo (@heinzmayo) April 2, 2019
"We're so excited to announce that our 'Heinz [Seriously] Good Cadbury Creme Egg Mayo' collaboration is actually happening, and can't wait for people to try it for themselves," said Raphael Capitani, brand manager of Cadbury Creme Egg, to Pretty52.
"We're looking forward to seeing Creme Egg and Heinz fans head down to the installation to taste this deliciously gooey spread."
From April 11 to April 13 Cadbury and Heinz are giving away free samples of the Creme Egg Mayonnaise at Ely's Yard, Truman Brewery in London.
Samples will only be given away until stocks last, so hurry!