The nation's favourite fry-up is revealed - but what do different parts of the UK want on their plate?
1 March 2019, 12:06
We can all agree that the English breakfast is the ultimate meal to start the day (even if it does contain all the calories in the world).
However, when it comes to what goes on our epic breakfast plate could lead to arguments.
Eggs? Sausages? Bacon? How about mushrooms? Or even chips? What about veggie options?
A new survey of 1,015 people in the UK has revealed the nation's ultimate fry up. The research, undertaken by luxury London hotelier Guoman Hotels, asked folks to pick from 17 (!) different items, to discover the most popular seven-item breakfast.
The top picks were:
1. Bacon (74%)
2. Sausages (73%)
3. Beans (70%)
4. Fried egg (65%)
5. Mushrooms (63%)
6. Toast (65%)
7. Tomato (58%)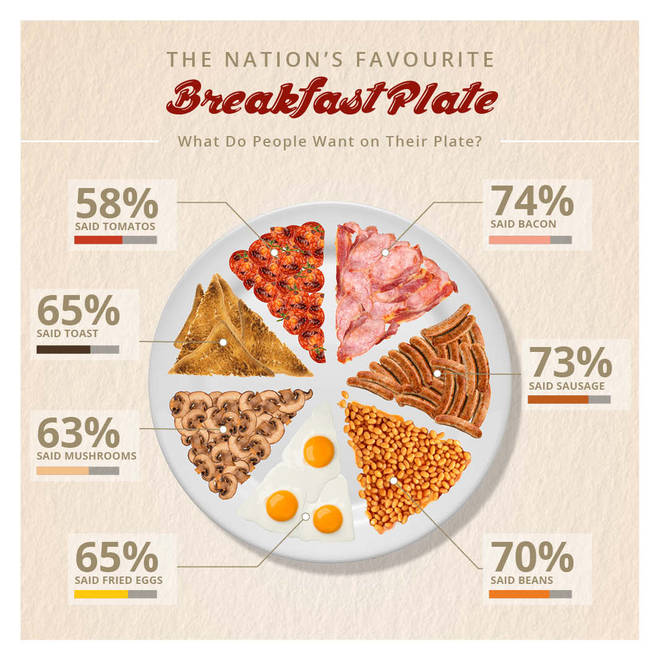 The fry up was voted as the UK's favourite breakfast, after being chosen by one-third of all people (32%). Second place went to cereal with 14% of the vote.
While the fry up was voted the nation's favourite breakfast, cereal is actually the most common morning meal, with over one-third (35%) saying it was their everyday choice.
In terms of breakfast condiments, tomato ketchup won with 39%, followed by brown sauce with 26%. One in 20 people (5%) said mayonnaise.
Tea is the preferred fry-up beverage, chosen by over one-third of people (35%), beating coffee (26%) and orange juice (18%).
The survey also saw the preferred fry-up differences across the nation, as you can see below: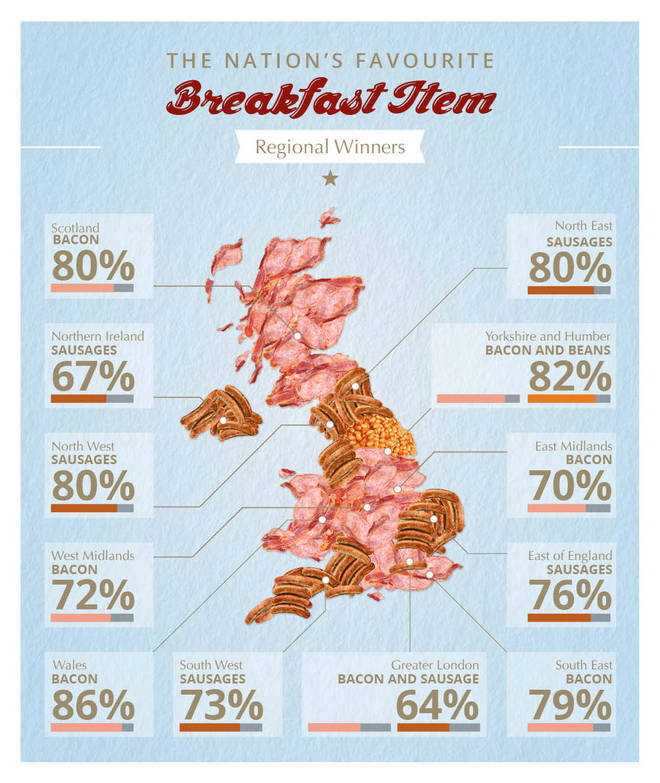 While the least favourite items can be seen here: