Want free Ben & Jerry's ice cream? All you can eat all day today - and there's no catch
9 April 2019, 12:16 | Updated: 9 April 2019, 20:22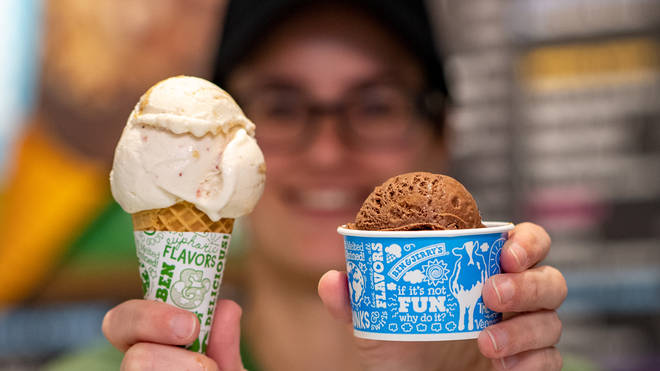 Thousands of scoops of Ben & Jerry's famous ice cream will be given away across the UK for one day only - the offer is all you can eat and there's no catch!
The annual Ben & Jerry's Free Cone Day is as a "thank you" to ice cream fans and takes place at selected Scoop Shops and cinema's across the land today (April 9).
All customers have the chance to enjoy a scoop of any flavour on the menu - including their latest creation Moo-phoria Chocolate Cookie Dough and Cherry Garcia.
Ice cream lovers who find themselves in a pickle over which flavour to choose can simply get back in line a second (or third, or fourth!) time - and it's all completely free.
Available at selected stores and cinemas's throughout the UK, visit here to find your nearest free Ben & Jerry's ice cream.
The annual Free Cone Day has been in existence since 1979 when the founders of Ben & Jerry dreamed up the day as a way to say thank you to their loyal customers.
Co-founders Ben Cohen and Jerry Greenfield's idea turned into an annual – and now global – event with over a million scoops handed out worldwide each April.
"We're nothing without our fans," said Ben & Jerry's CEO Matthew McCarthy.
"This is one of our favourite days of the year. It's a special tradition that's all about showing the love for our flavour fans the best way that we know how," he said.
2019 also marks the first year when Ben & Jerry's Free Cone Day ice cream can be delivered to your door.
You can now get a free 'Wich (chunky and swirly ice cream, top and bottomed with cookies), with all Ben & Jerry's delivery orders from their nationwide ice cream stores through selected delivery partners.