How to cook perfect crispy roast potatoes
30 November 2018, 08:00 | Updated: 30 November 2018, 11:20

Promoted by Crisp 'n Dry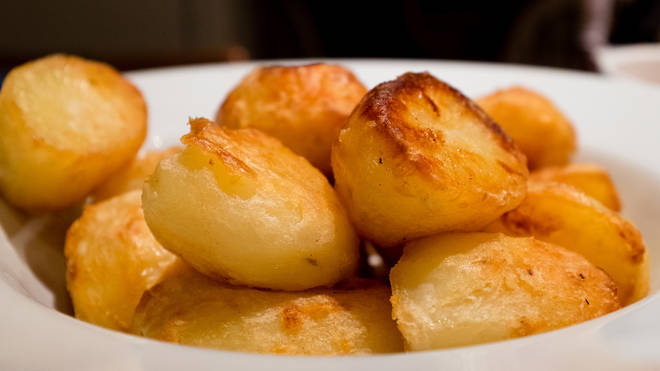 They're arguably the most important part of the roast dinner.
Thus, you can't have a Christmas dinner without a hearty portion of crispy roast potatoes.
But how do you make them perfectly crisp, we hear you ask? Worry no more, here is your easy and handy recipe!
You will need: 1kg potatoes (obviously), 100ml oil, 2 tsp flour, salt.
1: Put a roasting tin in the oven and heat to to 200C/fan or 180C/gas 6.
2: Peel the potatoes and cut each into 4 evenly-sized piece, or 2-3 if they're smaller (about 5cm each).
3: Put the potatoes into a large pan, and pour some water to just about cover them.
4: Add some salt, and wait for the water to boil. As soon as the water is boiling, lower the heat and simmer the potatoes for two minutes.
5: At the same time, put 100ml oil into the roasting tin in the oven, and heat it for a few minutes.
6: Drain the potatoes in a colander, and shake it back and forth to fluff up the potatoes.
7: Sprinkle them with 2 teaspoons of flour, and continue shaking so they are evenly and thinly coated.
8: Put the potatoes into the oven pan (be careful as it will be very hot and sizzly!), and roll them around so they are coated all over.
9: Spread them in a single layer in the pan, so that they are not all touching each other.
10: Roast the potatoes for 15 minutes, then turn them over and roast for another 15 minutes.
11: After turning them over again, roast for another 10-20 minutes or until they are golden and crisp-looking. The colouring will most likely be a bit uneven.
12: Sprinkle with a bit more salt, and serve!
The unsung hero of delicious Christmas cooking, Crisp 'n Dry, want you to have a 'Dry Run' of your Christmas dinner this year. Get practising those perfect roast potatoes and all those other elements of the perfect Christmas feast ahead of the big day!
Right now, we're also giving you the chance to win an amazing prize with Crisp 'n Dry. Click here to enter.